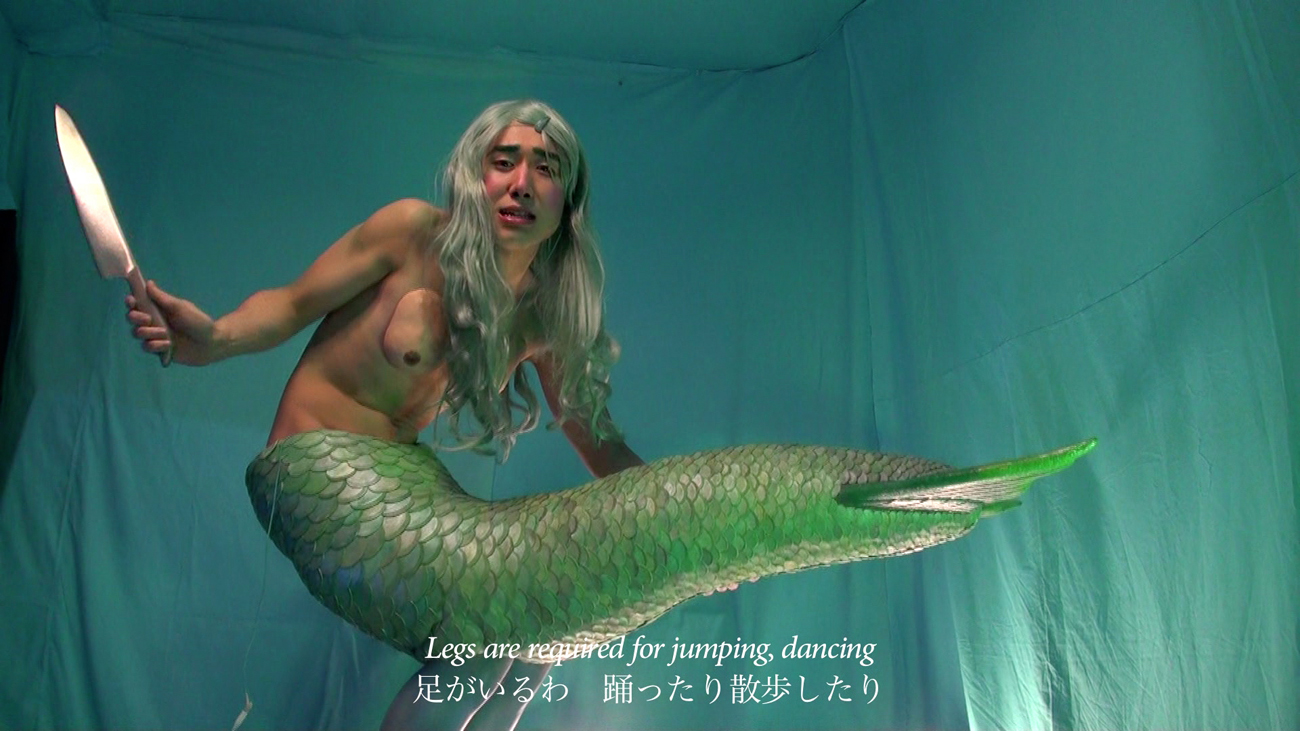 ボディスケープ:日本のアーティストによる新しい映像作品
Bodyscapes is a collection of new films by Japanese artists whose use of the body is central to their work – either as a landscape, a political metaphor or method of expression – the body acts as a vehicle and subject to communicate ideas.
In Fuyuhiko Takata's Little Mermaid-inspired Cambrian Explosion, Takata's character – Princess Mermaid – attempts to create his own legs by bloodily sawing his tail in half. Aya Momose attempts to speak and converse with a goat, to share feelings of forgiveness and pain following the commitment from one body to another in her film, To Cuddle a Goat, a Poor Grammar Exercise. And in The Educational System of an Empire by Hikaru Fujii, the artist asks a group of young South Korean's to reenact the tyrannical actions of colonial Japan upon the nation of Korea.
All five films are UK premieres.
Programme
– Bivalvia: Act I​, Yu Araki, 2017, 20:20mins
– Cambrian Explosion​, Fuyuhiko Takata, 2016, 2:35mins
– To Cuddle a Goat, a Poor Grammar Exercise​, Aya Momose, 2016, 13:50mins
– The Educational System of an Empire​​, Hikaru Fujii, 2016, 21 mins ​​
– Daytime, Yuichiro Tamura, 2017, 2:50 mins
 Total runtime: 61 mins.
Screening details
Fabrica
Date and time: 4 October 2018 at 6:30pm doors and bar, 7pm start
Price: £3
Address: Fabrica, 40 Duke Street, Brighton BN1 1AG
To book tickets: www.fabrica.org.uk / 01273 778646
Phoenix Cinema and Arts Centre
Date and time: Friday, 25 January 2019 at 8pm
Price: FREE – no booking required
Address: 4 Midland Street, Leicester LE1 1TG
Web / contact: www.phoenix.org.uk / 0116 242 2800
Trailer:
Bodyscapes – new film and video from Japan from videoclub on Vimeo.
Bodyscapes has been curated by Moritz Cheung, videoclub's curator, and is supported by Daiwa Anglo-Japanese Foundation and Arts Council England.