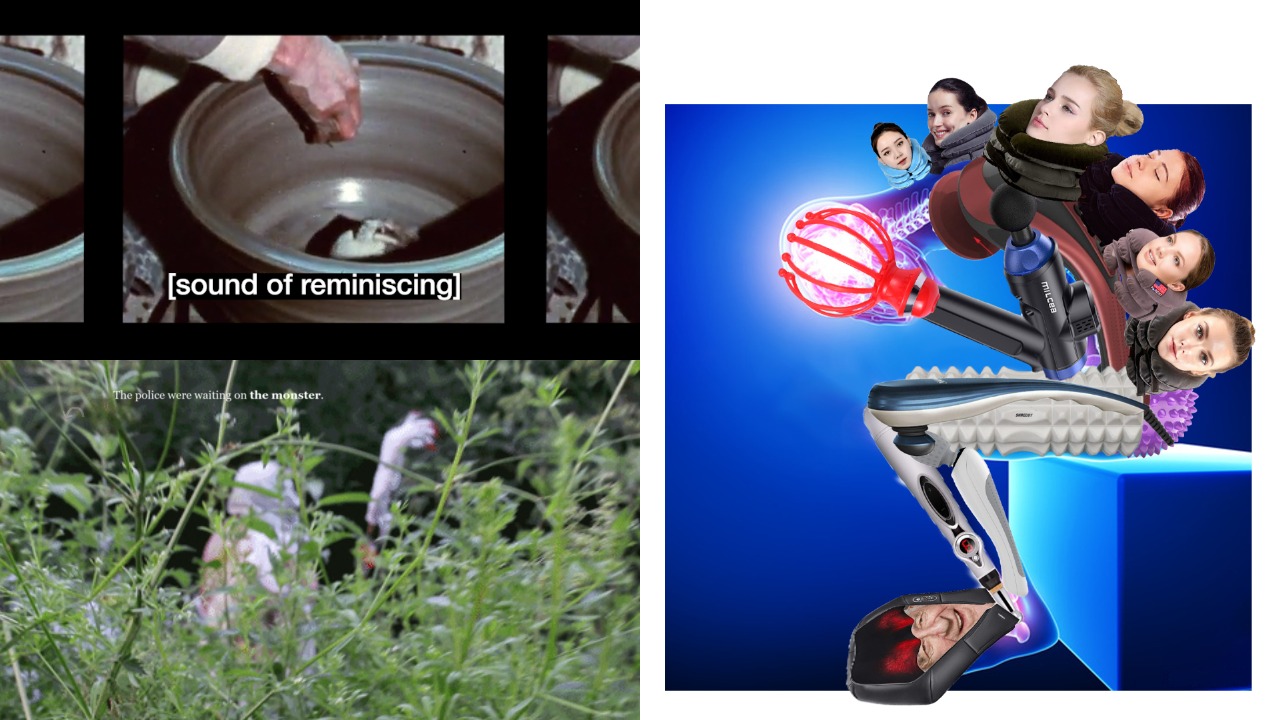 Intertwined is our new exhibition on Vital Capacities, presenting new works by resident artists – Seo Hye Lee, Laura Lulika and Linda Stupart. The works have been commissioned in collaboration with our partners: Film London Artists' Moving Image Network (FLAMIN), Phoenix and University of Salford Art Collection. Intertwined opens on 22 July. See the exhibition now by clicking here.
For our June 21 residency on Vital Capacities, we invited three artists from across the UK to explore and develop new work. Over the course of the month the artists did research, tested ideas and created new commissions, working with our partners, artists, web designer and digital inclusion specialist. Intertwined is an exhibition of the commissioned work resulting from June 21's residency. 
Seo Hye Lee was co-commissioned by University of Salford Art Collection, whose experience of working with archives was especially important in contributing to Lee's new film, [Sound of Subtitles]. Over the month, Lee researched approaches to subtitles and captioning, and how sounds are described or omitted using these tools for increasing accessibility for D/deaf and hard of hearing people. Lee worked with film archives across the country to develop a silent film that invites you, through the captions, to imagine the sounds, and the stories behind them, while provoking the viewer to question the role of captioning. 
Laura Lulika's new work, Body Builder, was co-commissioned by Film London Artists' Moving Image Network, which includes moving image, music, spoken word, performance and collage. Over the course of the residency, Lulika explored hyperability, mascot bodies, the false binary of healthy/unhealthy, and the absurdity of footballer's fake foul dives. Lulika has created an interactive collage, combining Frankenstein mascots, pub settings and automobile bodies all with their own tales to investigate. 
During the residency, Linda Stupart continued to explore the River Cole, a process begun in 2020, resulting in the work-in-progress film, Watershed (2020). During June 21, Stupart continued to walk and map the River Cole, which has resulted in the creation of an interactive story/game, with images, texts and music; Watershed 2.0: Pandemic CYOA Cyberspace Edition 2021. Stupart's new work has been co-commissioned by Phoenix in Leicester, who supported them to explore new game-based platforms, including Twine – a programme for making choose your own adventure (COYA) games, with which the new work has been created. 
To find out more about how the artworks came about, explore the artists' studios, where you can see the developments which led to the new work. To see the exhibition click here. 
With thanks to Film London Artists' Moving Image Network, Phoenix and University of Salford Art Collection for their partnership and collaboration. Thank you to Arts Council England for their support.