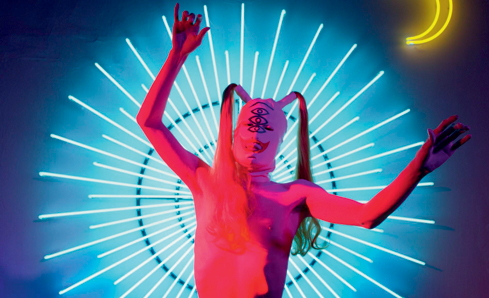 I don't remember seeing much artists' moving image at the art fairs during Art Basel Hong Kong, which struck me as a little strange, but I always feel strange at commercial art fairs. The shocking lighting, the mixture of appalling art work with some classic pieces that look like they should be in a museum. All this complemented and in contrast with the revved up, label-slicked, money-gownery striding everywhere with champagne in hand. It feels like a mockery of the art world (all that creativity and unique ideas perverted into another reason to get dressed up and go shopping for the rich), but this is a core part of that world now.
The main pillar of artists' film at Art Basel was the Art Basel Film programme. This is the second year Art Basel Hong Kong has implemented a film programme, which gives moving image artists represented by galleries at Art Basel a platform to exhibit work that exists away from the bustling mall-like fair.
Curated by Li Zhenhua, Beijing and Zurich-based producer and multimedia artist, screenings were held over four days in Hong Kong Arts Centre's cinema space. Seven themes were explored over the four days, drawing the films into discrete programmes of work.
As the way is with screenings, it was, for me, a mixture of excellent, fair, and not so great work. The first two films, represented by Star Gallery, were in the great category. PICNIC by Chen Tianzhou is a riotous escapade of sexually charged madness; colourful, blissed out, marvellous and delirious. Drug-induced delirium is suggested at the start, and continues throughout. It is irreverent, gripping, a good antidote to the many banal works in the art fair.
A Thousand Kisses Deep by Song Kun is a slippery, sexual film; architecture intermingles with human bodies and octopus tentacles, striving to get closer to each other, increasing in number as they desperately entangle. The film is a sensual meditation on the rapid growth of cities, and growing numbers of people living in them.
A third film I really appreciated was Lu Yang's Manga-style animation Uterusman, an overview of a superhero whose superpowers derive from a woman's genitalia, Uterusman himself being made up of the collective elements of the female reproductive system. Superpowers include: blood energy altitude flying, sanitary pad skateboard, blood chain defence, ovum light wave attack, DNA attack, pelvis chariot, baby weapon, plus more.
The film dynamically mixes in archival film of blood flowing, ovulation, birth and umbilical cord clipping, presenting female reproductive processes as super while everyday. The artist denied that she intended the film to be feminist, but confirmed that she wanted to present a character who combined male and female attributes as a way of expressing everyone is equal. It's a very funny, challenging film, the insightful contents of which, I believe, the artist is still to become aware of.
Art Basel Film programme was a great opportunity to duck out of the kerfuffle of art fair crazy, and to take some peace in knowing that there is some good art for sale. I look forward to next year's programme.