VisionMix: Loss & Transience 2
Loss & Transience 2 brings together the work of five contemporary artists/filmmakers who are living and working in India today, and artists of Indian heritage based internationally. 
Watch the films now, click here.
The films are linked by their protagonists' state of transience at key moments within the films providing numerous insights into how day-to-day realities are being catalysed to affect change, but also to reflect on present political and environmental concerns. Collectively the films are examples of rendering new worlds through improvisation which cannot exist 'in the real world'; an approach that is re-constructive and playful; allowing for adaptation to the challenges of the environment whilst critically questioning our role within it.
The programme is curated by VisionMix's curators, Lucía Imaz King and Rashmi Sawhney, and presented in collaboration with videoclub.
Loss & Transience 2 coincides with an exhibition at Hong-gah Museum in Taipei.
Programme of online talks
A curators and artist's talk – about this programme – will take place on 20 March 2021, click here for details.
A 2nd talk will take place about the exhibition at Hong-gah Museum on 27 March 2021, click here for details.
Artists and film programme (showing 19 – 27 March: watch here)
Ranbir Singh Kaleka, Man with Cockerel, 2004 (5:42 mins)
Ranbir Singh Kaleka, Forest, 2007 (11 mins)
Avijit Mukul Kishore, The Garden of Forgotten Snow, 2017 (30 mins)
Mochu, Wake, 2008 (13:44 mins)
Ranu Mukherjee, Home and the World, 2015 (5 mins)
Gigi Scaria, No Parallels, 2010 (6:42 mins)
Gigi Scaria, Political Realism, 2009 (3:35 mins)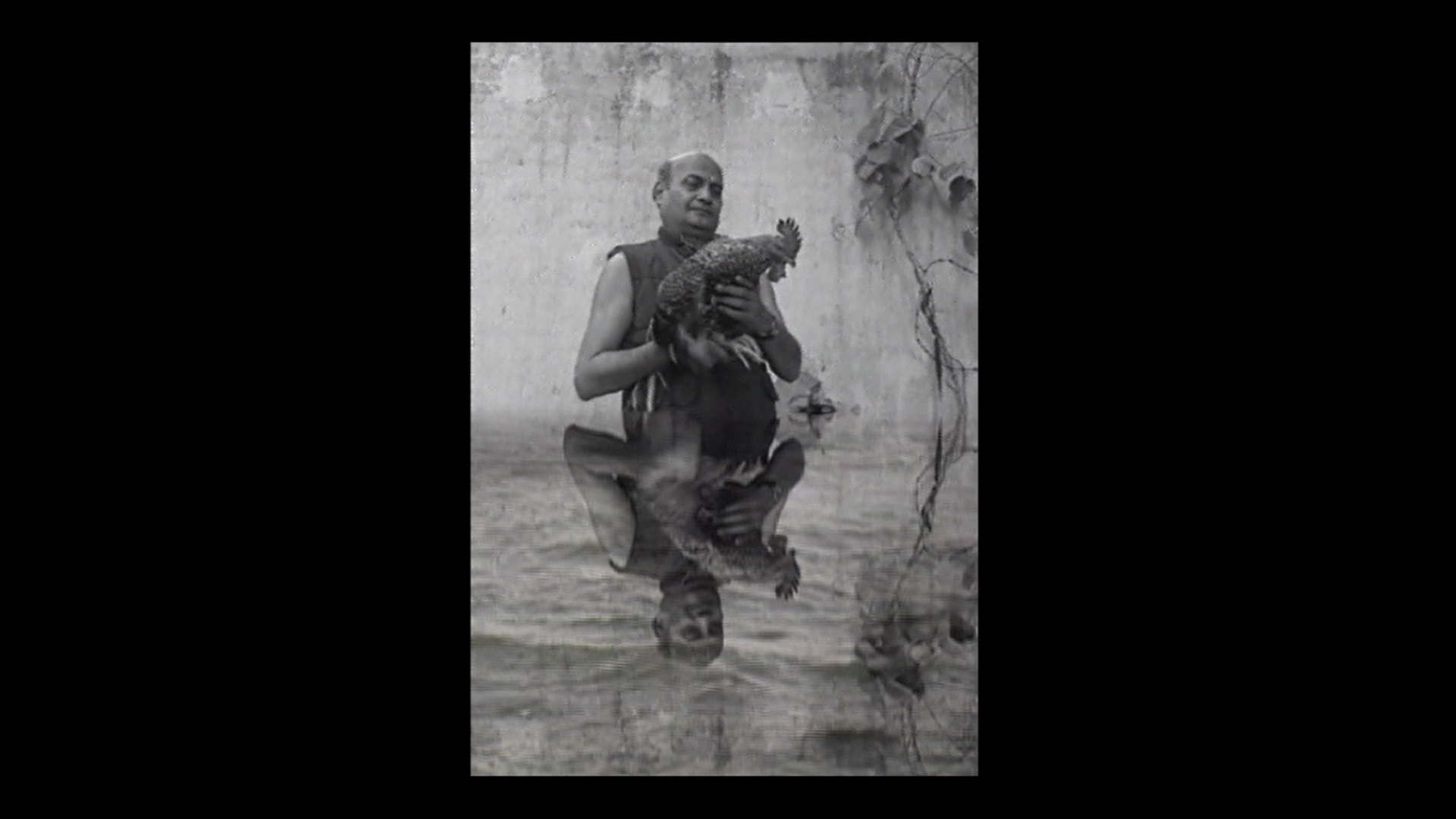 Ranbir Singh Kaleka, Man with Cockerel, 2004
This looping film operates by creating unexpected ellipses of time in the image of a man who stands, half submerged in water, holding a cockerel in his arms. The cockerel repeatedly escapes his grasp and flies out of shot, reappearing only to be captured again. The composition of the film frame (in black and white) resembles a moving painting in which particular elements of the image are singled out to be distorted, or to subvert our expectations of how the sound and the image relate to one another. The man departs from our view whilst, illogically, his reflection remains attached to the water's surface.
Time is reversed when a heron enters, and then walks backward out of the scene. The sound track does not offer the meditative calm that would 'fit' this lake-side scene. Instead, we hear a clatter of mechanical and industrial sounds that displace our viewing. Kaleka's video-artwork indicates how precarious the moment is, in which we subject an image to our interpretation, but it highlights too how precarious the role of the artist is when faced with creating a new reality in an artwork. Man with Cockerel is an "allegory on the tantalizing grasp of desire" which continually eludes us, as the art critic, Geeta Kapur observes.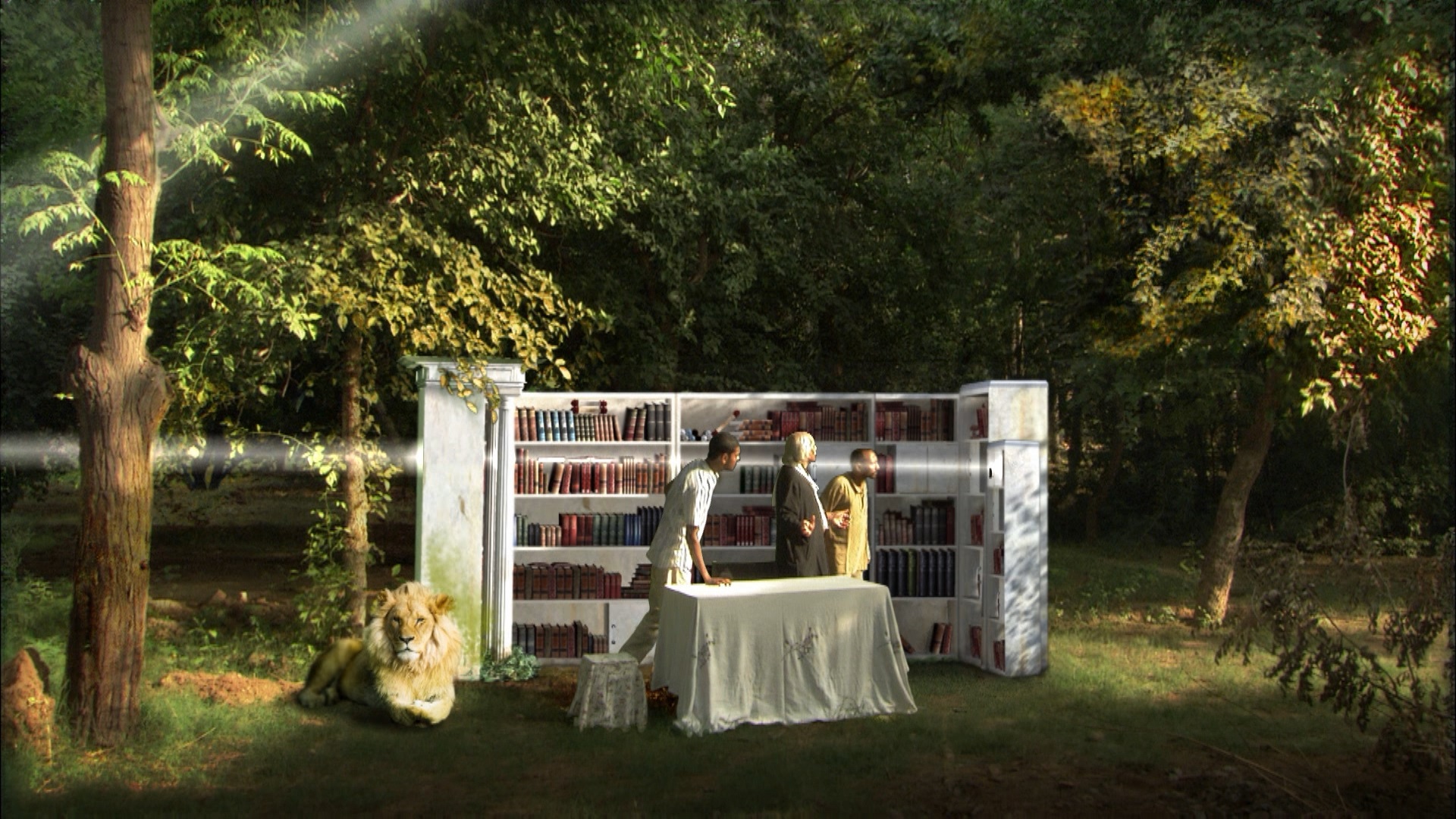 Ranbir Singh Kaleka, Forest, 2007
In this work, a library of books stands improbably in a clearing in the forest, symbolising 'a library of knowledge.' A lion enters, becoming the guardian of this knowledge but also, representing a mythical, other-worldly creature of the imaginary. The lion is driven away as the library is set on fire. Finally, a young lion returns to the city that emerges from the ashes of the scene. Flowers rise from the burnt ground.
In this visionary and poetic video artwork the 'hidden atrocities' that take place in this animated painting are suggested rather than explained. It becomes a statement about a collective destruction of the environment, and of generational knowledge and wisdom passed through centuries and across cultures for which we must all atone.
Biography – Ranbir Singh Kaleka
Ranbir Singh Kaleka is a leading Indian contemporary artist who trained at the Punjab University, Chandigarh and at the Royal College of Art (London). He initially established himself as a painter depicting every-day scenes from Indian life that are infused with mythical, oneiric and visionary reality. From the 2000s onwards he became a well-recognised pioneer of video and moving image, contributing substantially to the generations that followed him.
A key body of his early video works explore how the temporality that exists in painting (as an art form) can be captured and transposed into the medium of cinema, including the convention of 'video loops'. This led to a series of works in which he projected slowly animated film images on top of canvases that were already painted on with a 'ghost image'. This technique creates a moment of realisation and focus around how moving image and painting interrelate, both in one's perception of the image, and art historically.
The concept of memory, and the poetics of place are also key to Kaleka's video artworks. Several of his installations have investigated the demise of displaced people and environmental concerns. Examples of this are, House of Opaque Water (2010), which explores the experience of a survivor of a flood in the Bangladesh Sundarban marsh region, and Crossings (2005), which references the migration history of Sikh communities from the Punjab to other regions of India. A recent key exhibition of Kaleka was titled, Tah-Satah, curated by Ashish Rajadhyaksha. Kaleka currently lives and works in New Delhi.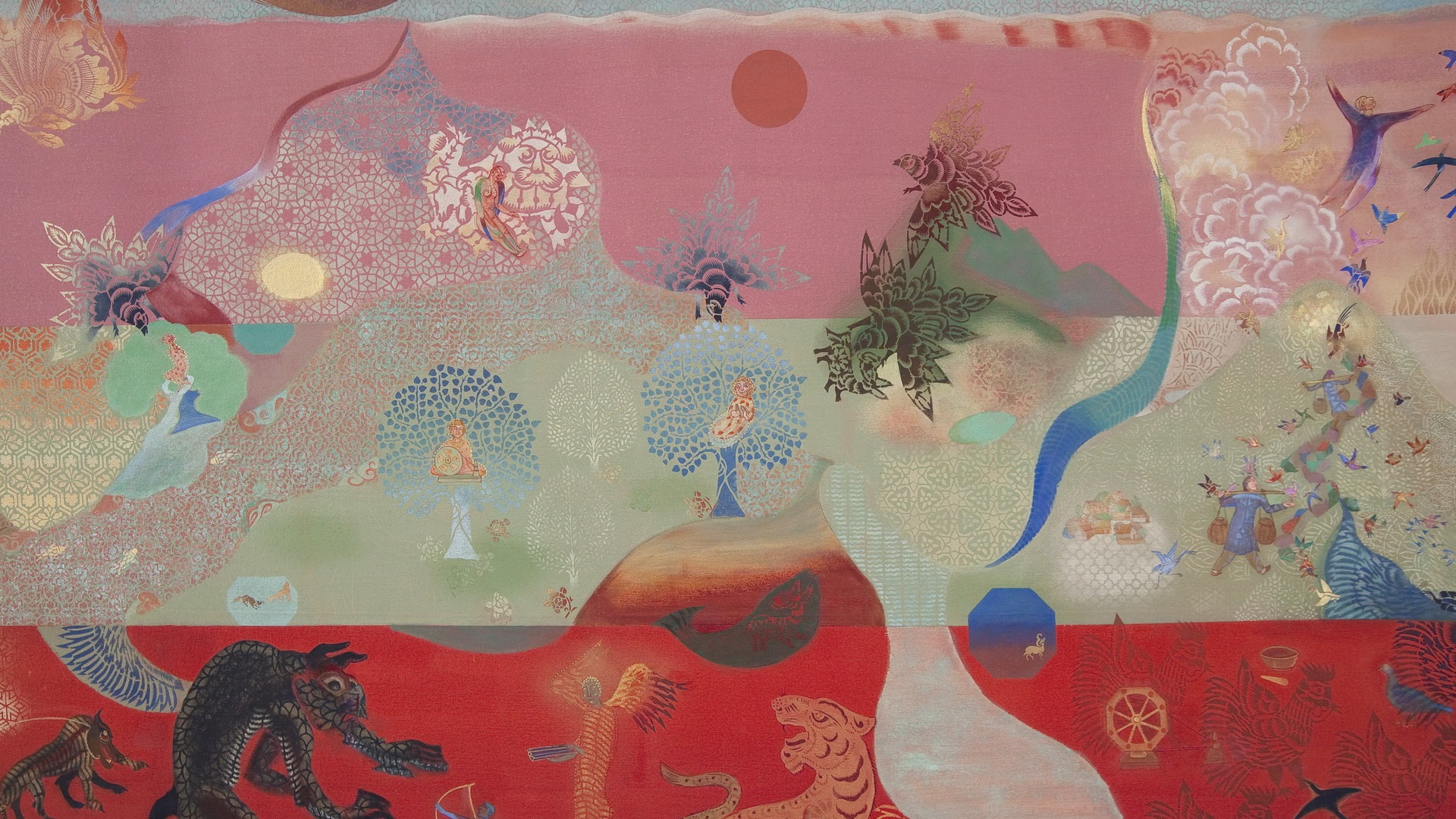 Avijit Mukul Kishore, The Garden of Forgotten Snow, 2017
The Garden of Forgotten Snow looks at the art practice of Nilima Sheikh and her engagement with the multiple histories, literary references and artistic traditions of Kashmir. The film comes out of two decades of engagement between the artist and the filmmaker.
Sheikh is an eminent artist who studied painting at the Faculty of Fine Arts, Baroda, India. She belongs to the Narrative-Figurative tradition of painting that broke away from the prevalent trend of Modernist Abstraction in the early 1980s, to focus on subjects that were local, personal, dealing with gender and feminism. Sheikh has a long association with Kashmir, a land of beauty and luxury, unfortunately known in recent times for its history of separatist strife and conflict. 
Biography – Avijit Mukul Kishore
Avijit Mukul Kishore is a filmmaker based in Mumbai. He studied cinematography at Film and Television Institute of India, Pune and holds a bachelor's degree in History from Hindu College, University of Delhi. He works in documentary films and inter-disciplinary moving-image practices, both film-based and digital. He frequently collaborates with other visual artists, architects and academics on video and film-based works. He is involved in cinema pedagogy as a lecturer, writer and curator of film programmes. His works have been shown at Documenta 14, Chicago Architecture Biennial, Pinakothek-Moderne Munich, Kochi-Muziris Biennale and Dhaka Art Summit in addition to international film festivals including CPH Dox, Sheffield Docfest, Dok-Leipzig, Documenta Madrid and various academic and cultural spaces.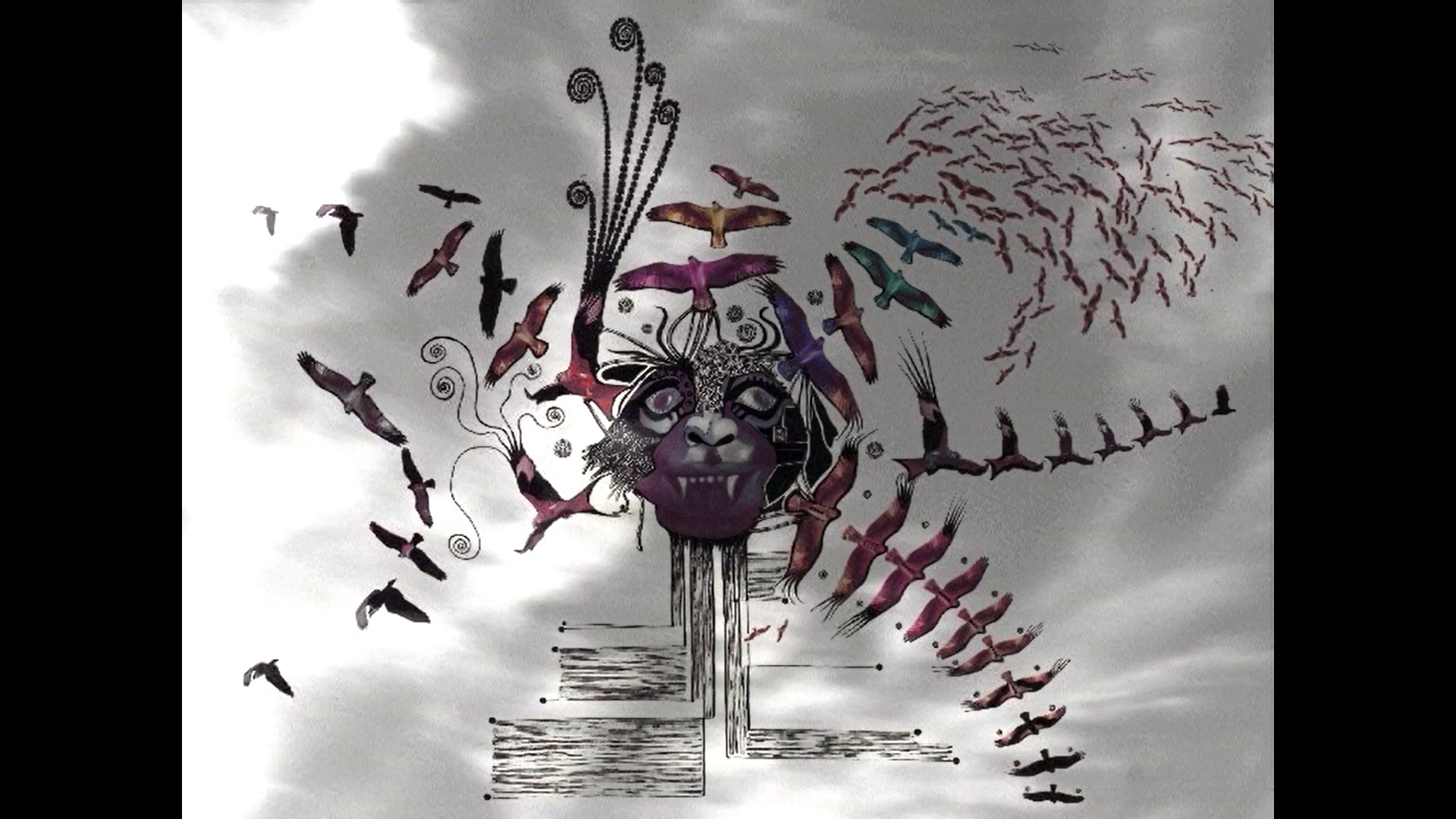 Mochu, Wake, 2008 
A remote village in the desert, inhabited by fleeting humans, guarded by a dreaming puppet. Flies buzz around a crashed time-machine. Noise particles infest thought and emotions. Guided by birds, dead and alive, a man discovers the time-machine's flight recorder, and the memory of the village flows out.
Biography – Mochu
Mochu works with video and text arranged as installations, lectures and publications. Techno-scientific fictions feature prominently in his practice, often overlapping with instances or figures drawn from art history and philosophy. Recent projects have explored mad geologies, psychedelic subcultures and Indian Modernist painting. Mochu is a recipient of the Edith-Russ-Haus grant for Media Art 2020 and his practice has previously been supported by Ashkal Alwan, India Foundation for the Arts and The Sarai Programme. Exhibitions include 9th Asia-Pacific Triennial, Sharjah Biennial 13, 4th Kochi-Muziris Biennale, Alserkal Avenue, Kiran Nadar Museum of Art and Transmediale BWPWAP. He is currently based in Delhi and Istanbul.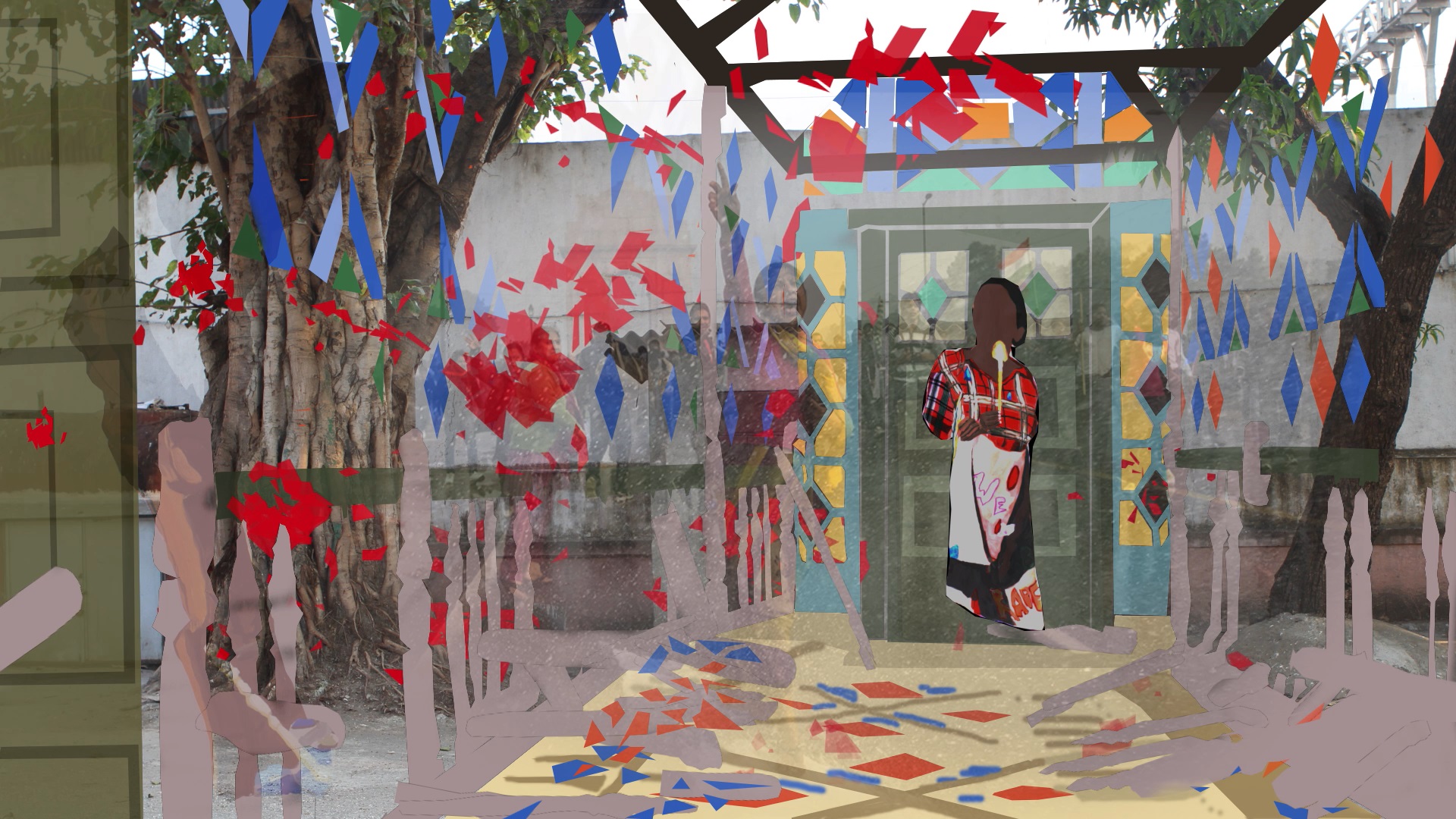 Ranu Mukherjee, Home and the World, 2015
Home and the World takes as it's starting point the corridor scene from the filmmaker Satyajit Ray's 1984 cinematic adaptation of Rabindranath Tagore's 1916 novel Ghare Baire ('The Home and the World"), in which the female protagonist passes through from domestic chambers, to enter the civic life of a nascent post-colonial India. Mukherjee's film depicts the colonial corridor architecture falling apart and being replaced by bamboo scaffolding; a hallmark of contemporary Mumbai and the capitalist economies of the early 21st century. A woman sweeps up the debris, creating a transition between eras. In each, an identical series of female figures walks forwards, some protesting violence against women. The figures represent complex intersections between modernization and the ongoing social struggles and resilience of women. Home and the World is composed and animated from photographic, digital and painted imagery. Its slow deliberate rhythm is built through overlaying distinct types of motion.
Biography – Ranu Mukherjee
Ranu Mukherjee makes hybrid work in moving image, painting and installation to build new imaginative capacities. She is guided by the forces of ecology and non-human agency, diaspora and migration, motherhood and transnational feminisms – drawing inspiration from the histories of collage, feminist science fiction and Indian mythological prints.
Mukherjee has produced commissioned projects for the San Jose Museum of Art, the Los Angeles Museum of Contemporary Art, the Asian Art Museum, the de Young Museum, the 2019 Karachi Biennale, Yerba Buena Center for the Arts, and the San Francisco Arts Commission. Current awards include a Pollock Krasner Foundation Grant, a Lucas Visual Arts Fellowship and an 18th Street Arts Center Residency. Mukherjee is represented by Gallery Wendi Norris.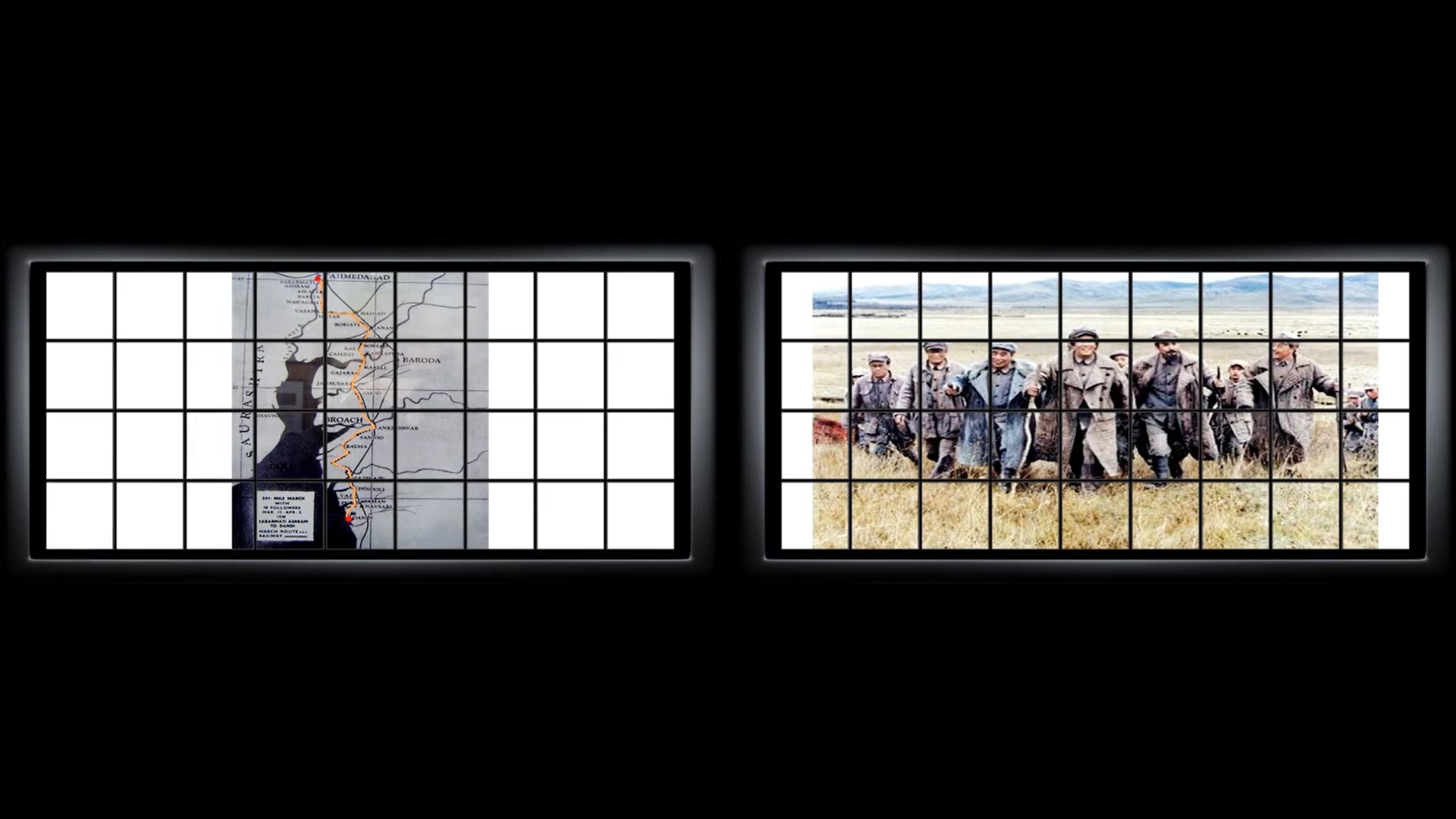 Gigi Scaria, No Parallels, 2010
No Parallels has two frames running parallel to each other. The frame on the left side features archival images of Mahatma Gandhi, including images of his personal moments; being surrounded by people, leading political movements, and also the lonely moments of meditation and silence.
These images have been constructed as flip cards and appear one after the other. The final image that appears on the screen is a hundred rupee note with the image of Gandhi.
The frame on the right side has images of Mao Zedong. This too displays selected archival images of important moments in Mao's life. There is an attempt to trace similar kind of images from the life of both leaders. For example, the long march of Mao is shown parallel to the salt march of Gandhi. The final image on the right side of the projection has a hundred Yuan Chinese currency with the image of Mao.
It is an attempt to understand the psyche of two nations through their historical narratives. These two personalities have contributed their best to create the modern India and modern China. In terms of historical time, personal values, political philosophy and the impact on the people of their country M.K. Gandhi and Mao Zedong stand in two different poles. These historical icons, when placed next to each other certainly create a serious discourse on the project of nation building and its impact on contemporary psyche.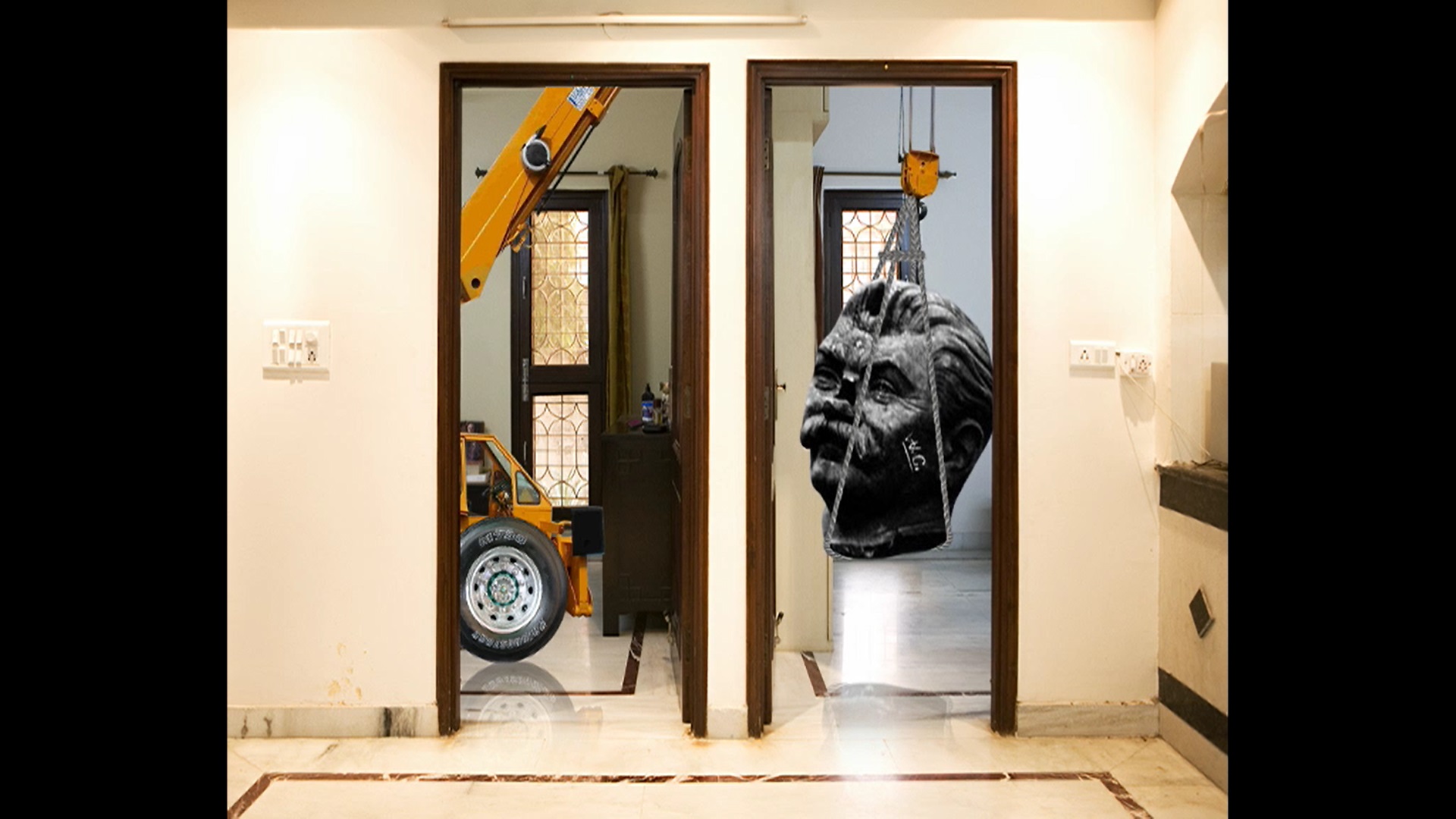 Gigi Scaria, Political Realism, 2009 
This video artwork deals with the regime shift and the cycles of change of an era. Within the last thirty years, a drastic change has taken place in the realms of politics, economics and culture. Suddenly the world looks different for many, including for old and new generations.
Ideologies and resistance systems which were actively propagated by the different power structures lost its grip due to the advent of a new humanity. At the same time, it also left us with doubt about how to reconstruct a new 'moral code'; a big question of its survival in the immediate future. Political Realism brings this confusion to every single home and recollects the memory of the past to analyze the impermanence of all great power structures of the present, as well as many more yet to come.
Biography – Gigi Scaria
Born in 1973, Kothanalloor, Kerala, Gigi Scaria completed his Master's degree in painting from Jamia Millia University. His work draws the viewer's attention towards the painful truths of migrancy and displacement and the paradigms of development through his intense investigation of urban topographies and modern city structures. He is also concerned with the intended and unintended consequences of these developments for urban residents and the communities that make up, and divide them. Issues of alienation and unsettlement reverberate within the labyrinthine buildings of his canvases and the uncanny structures of his sculptures and installations. "Gigi's particular position is to investigate how city structures, social constructs, and the view of location is translated in social prejudice and class attitude," says art critic Gayatri Sinha. His recent exhibitions include BRUISED: Art action and ecology in Asia (2019) at RMIT University Gallery, Melbourne, Australia (2019); 
Fotofest Biennial Contemporary Photographic & New Media Art, Huston, Texas, USA (2018); 'Iconic Interruptions, Selected works by Gigi Scaria, 2007-2015', Frederic Jameson Gallery, USA (2017); Dwelling Pluralities, a collateral event of Kochi Muziris Biennale, Kochi, India (2016); Time, Site & Lore, Denmark (2016). Gigi Scaria lives and works in New Delhi.
Curated by Lucia Imaz King and Rashmi Sawhney for VisionMix.

Supported by University of Brighton.