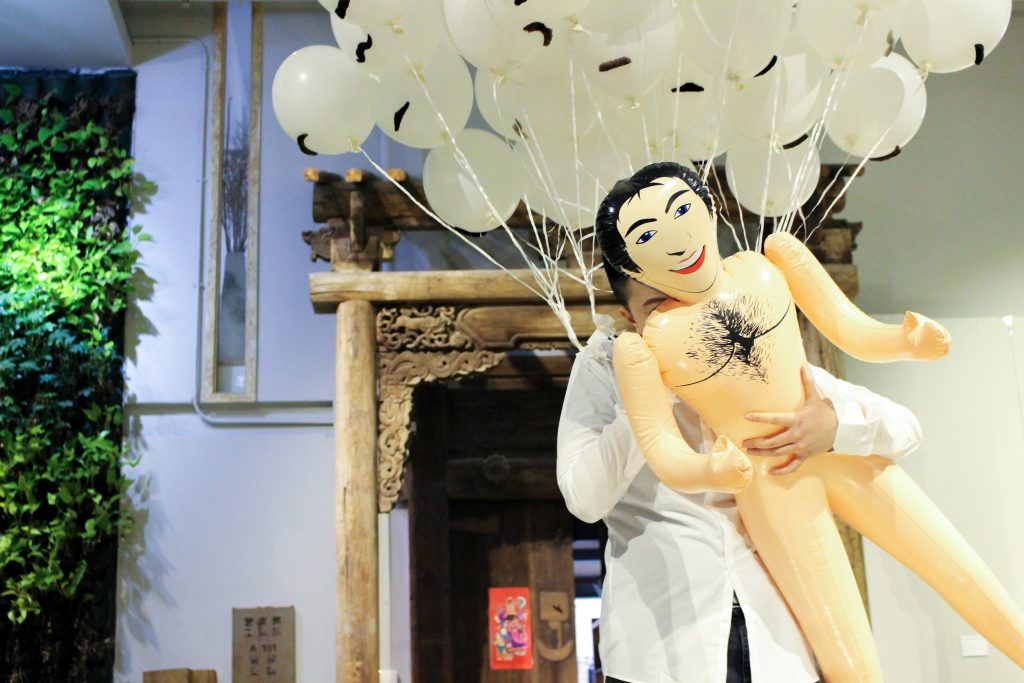 Platform Asia presents Alternative Acts at Backlit Gallery, Nottingham in association with videoclub.
Alternative Acts explores ways in which artists attempt to explore their culture and identity via issues such as gender, class and race. Through individual approaches, artists consider what identities represent – showing how identity can be affected by circumstances, including censorship, racism, political upheaval and war.
Inquiring into the norms of gender, Chinese drag king Whiskey Chow's performance, M.A.C.H.O. compares conflicting queer/female masculinity with western capitalist values. M.A.C.H.O. aims to provoke discussion about female queerness, fetishism and race.
Moving image programme, Displaced Belongings screens alongside the live performance of M.A.C.H.O., which can be dipped into and out of during the live event.
Displaced Belongings is a programme of film and video focusing on how Asian artists' identities have been shaped by the impact of issues such as immigration, language, censorship and queerness. It includes recent work by Mao Haonan (China) , Bella Riza (UK), Suneil Sanzgiri (US), Su Hui-Yu (Taiwan), Wu Chi-Yu (Taiwan) and Mathis Zhang (China). The films Action, Almost Unable to Think by Mao Haonan (2018) and At Home But Not at Home by Suneil Sanzgiri (2019) have not been shown in the UK before.
Venue date and details
BACKLIT
Date: 19 Mar 2020
Time: 6:30pm: Doors open and bar
7-9pm: Screening and performance
Address: BACKLIT, 3rd Floor (Gallery), Alfred House, Ashley Street, Nottingham, NG3 1JG
Free entry
Book your tickets now
*Pre-book your tickets to guarantee entry*
Programme
Performance
M.A.C.H.O. – Whiskey Chow
19.00 – 20.00

'M.A.C.H.O' situates a symbolic conversation between female/queer masculinity and a fetishised man-like figure, creating an absurd companionship. Throughout the performance, Chow reveals a "failed" masculinity on gendered, sexed, raced and marginalised bodies to problematise hierarchies of masculinities in western capitalist society.
Artist's biography
Whiskey Chow is a London-based artist and Chinese drag king. Coming from an activist background in China, Whiskey has been engaging with political issues in her practice, Whiskey also explores female masculinity, stereotypes and cultural projections of Chinese/Asian identity. Studied at Royal College of Art (UK), Whiskey interdisciplinarily making performance, moving image and experimental sound piece. Prior moved to the UK, Whiskey has worked closely with local queer communities in Guangzhou and contributed as actor, co-playwright and sound designer in the production of 'For Vaginas' Sake' (2013) (將陰道獨白到底, the original Chinese version of The Vagina Monologues).
Screening
Displaced Belongings
18.30 – end of event
At Home But Not at Home, Suneil Sanzgiri (US), 2019, 10:43 mins (UK premiere)
Salt House, Bella Riza (UK), 2017, 12:39 mins
Action, Almost Unable to Think, Mao Haonan (China), 2018, 11:20 mins (UK premiere)
Dreams, Butterfly Boy Dreams (Genesis), Mathis Zhang (China), 2019, 7:13 mins
The Glamorous Boys of Tang(1985, Chui Kang-Chien), Su Hui-Yu (Taiwan), 2018, 15 mins
A Private Collection, Wu Chi-Yu (Taiwan), 2016, 13:33mins
(Ages 15+)
Full details for Displaced Belongings programme
Alternative Acts is curated by Moritz Cheung for Platform Asia. Delivered in association with videoclub and BACKLIT, and supported by Arts Council England.

#alternativeact #displacedbelongings #platformasia