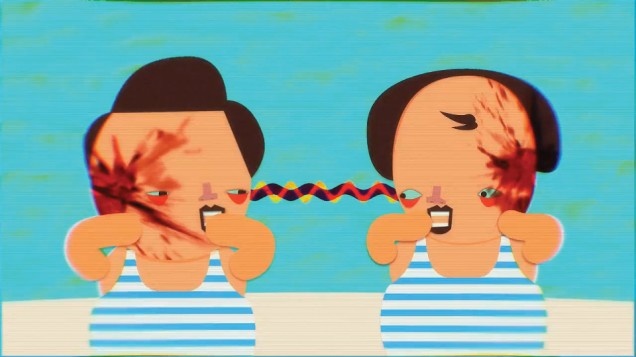 Música y videoarte noche: Afterparty no oficial de Caos en el Museo
Domingo/Sunday 20/11/16: 19:30 – 23:00  (Hora feliz hasta las 23:00/Happy hour till 11pm. Bar abierto hasta las 02:00/Bar till 2am)
Lugar de encuentro / Venue: ATOM, Bolivar 933, C1066AAS CABA, Buenos Aires.
Buenos Caos is a celebration of some superb artists' film and video, collected together from across the globe, including artists' work from Argentina, USA, China, Hong Kong and the UK. Combined with some expert DJ-ing provided by ATOM bar, Buenos Caos provides a unique moment to enjoy culture and have a drink or two following Chaos at the Museum in Buenos Aires.
Artists' film programme & DJ between 7:30pm and 11pm, plus happy hour till 11pm. ATOM open until 2am. Entry is free.
Curated by Karen Antorveza, Moritz Cheung, Adriel Luis and Jamie Wyld.
Programme of works:
Under the Lion Crotch – Wong Ping 4'45" (2011)
"Under the Lion Crotch"
Here comes the end
Our land is brutally torn apart by conglomerates
Redevelopment swept across the city
Their thriving business had left us homeless
Rotten city, rotten crowd
Luxury clothing won't conceal the stench
Top yourself and throw a curse
Fill the streets with our merry hearses
Is the world going to end
as we've been longing for?
Destroy us all together with the chaos
Set us free like
the ashes in the wind
200 Nanowebbers – Semiconductor  2'40" (2005)
For '200 Nanowebbers', Semiconductor have created a molecular web that is generated by Double Adaptor's live soundtrack. Using custom-made scripting, the melodies and rhythms spawn a nano scale environment that shifts and contorts to the audio resonance. Layers of energetic hand drawn animations, play over the simplest of vector shapes that form atomic scale associations. As the landscape flickers into existence by the light of trapped electron particles, substructures begin to take shape and resemble crystalline substances.
Memory Theatre – Tom Lock 4'44" (2012)
Memory Theatre takes as its starting point a personal reflection on my memory of cartoons, films, online videos and music. The material used in the work ranges from reflections on my childhood in the 80's through to the present day. Collage and cut up techniques run throughout the editing creating confusing and psychedelic relationships within the visual and sonic content. Video is broken down through pixelation whilst layers of imagery, sound and live action are merged together.
A Corruption of Mass – Megan Broadmeadow 2'42" (2015)
Bismuth, when ingested can cure an upset stomach.
It can kill too, having now replaced lead in bullet manufacture.
More curiously, it has uniquely strong diamagnetic properties, and is a valued shamanic tool offering insight into other realms.
It was also discovered at Roswell, and might possibly provide the answer to unlocking the mystery of alien space travel.
In A Corruption of Mass, Broadmeadow has choreographed movements for a female dancer in response to Bismuth's uniquely complex fractalesque characteristics. The core of the film alludes to the other worldliness this element evokes, whilst simultaneously tracing its chemical journey from ingot to crystal.
Locoemotive Lounge – Robert Fox 6'06" (2014)
The Locoemotive Lounge is the waiting room occupied prior to one's destiny, that sets the precedent. The Lobby of limbo in our high-rise hotel of aspiration. A self-sufficient service that must be welcomed and mastered, in order to make the graceful transition, into one's prospective saloon.
Chew Chew – Tom Goddard 2'55" (2015)
Connecting with the production of a well-known chewing gum in Plymouth, Chew Chew presents a selection of chewing gum adverts, reclassified and arranged within Roger Manvell's abbreviated version of the Hollywood's Hay's Code, creating a short film with a sexually charged perspective, hinting to our obsession with restriction and biased gender views on promiscuity
Private Theatre – Liberty Antonia Sadler 3'56" (2015)
She Didn't Know Any Better.
A Feminist Romp about sex and ignorance.
Exploring female stereotypes through character and humour, this short performative film features three personas: The Feminazi, The Tampon Tiara Princess & The Little Girl Dom. Together these characters play with the concepts of infantilisation objectification and 'man-hating', with hints of traditional fairytales and biblical references. The film combines gender performativity, hand drawn animation and fetishised objects to create a humorous poem of femininity.
A Rat Biting Another Rat – Anita Delaney 4'16" (2015)
A Rat Biting Another Rat is an affective collage. Comprised of rapidly edited actors, objects, text and sound, the work swings between the violent and dripping, the sweet and risible. The work is exemplary of the interest in aesthetics and affect at the core of Delaney's practice which looks at fictions and strategies for how to live as a weakling. A Rat Biting Another Rat seeks a personal relationship with the viewer through text and speech. The work wants to be intimate with its audience and insinuate a partnership.
Offset – Shi Zheng 7'52" (2014)
Virtual Terrain has been in composition since 2012. It is created successively after "Flâneur in a Virtual Landscape" which is a series of digital prints. Like Flâneur, Offset is also an audio-visual work generated by digital images generating program.
When I use computer as my environment for artistic creation, the software and the operating system constitute an interesting world full of symbols to me.
It consists of actual and virtual realities in the meantime. Being a creator and a loner in this parallel planet, I take position as a photographer and a rover, keeping filming these virtual scenes, making and adding granularized noises to this space I created. Through the process I would like to share with the viewers feelings of illusions in the nonphysical space as well as the unspeakable phenomenon filtered out in a medium alternating.
Splashy Phasings – Heather Phillipson 2'39 (2013)
Referencing the 3-min gap between programmes as the space of advertising, the length of a pop song, and the moment both before and after 'information', the video plunges into a post-news environment, built on tears, song and other voice and body outpourings.
Brighton is Our Playground – Choi Sai Ho 6'30" (2016)
Brighton Is Our Playground is a new art film work sampling 16 archive films from Screen Archive South East's collection of SE England, re-editing and layering multiple images and newly composed music creating a new work. The historical films document the English life and culture of the early 20th century, as well as the gliding cityscapes on the highway, which are a reflection of the British lifestyle at that time, capturing past trends and historic memories.
The Dark, Krystle – Michael Robinson 9'30" (2013)
The cabin is on fire! Krystle can't stop crying, Alexis won't stop drinking, and the fabric of existence hangs in the balance, again and again and again.
Airy Me – Yoko Kuno 5'38" (2013)
Airy Me is inspired by Cuushe's 2009 song of the same name. The animation also features her 2013 song "Steamy Mirror."
Yoko Kuno created Airy Me from 3,000 still images drawn over almost two years. Images were drawn with colored pencils and crayon and edited with Adobe Photoshop and After Effects. It received the Animation Division New Face Award at the 17th Japan Media Arts Festival.
Fireworks – Li Ming 5'07" (2008)
Cualidad de animales y pájaros – Violeta Gonzales 5'32" (2015)
CUALIDAD DE ANIMALES Y PÁJAROS es una instalación que mezcla video con otros dispositivos manipulables ubicados en el espacio llamados "Latencias"*. La instalación pretende generar una memoria de viaje a partir de las texturas, los sonidos, los momentos que pueden pasar desapercibidos. Los recuerdos que tenemos no son del todo confiables están siempre editándose en nuestro cerebro, y sobre esta poca fiabilidiad nace la libertad creativa y constructiva de la memoria.
QUALITY OF ANIMALS AND BIRDS is an installation that combines video with other manipulable devices located in space called "Latencies". The facility aims to generate a memory trip from textures, sounds, and moments that go unnoticed. The memories we have are not entirely reliable are always being edited in our brain, and from this unreliability the freedom of memory is born.
The piece is a construction of a new past.
Destruccion – Guadalupe Moreno Campos 1'46" (2015)
King Fu Zombies VS Shaman Warrior 11'42" (2016)
With Hanuman as her spiritual guide, a young woman must battle zombies in the jungle, monsters that materialize from Buddhist texts, and her own personal demons in a post apocalyptic Laos. Kung Fu Zombies vs Shaman Warrior examines the perception of mental illness as demonic possession within the Lao community.
Fuego en el aire – Paula Herrera 5'14" (2013)
No sé alcanzar las estrellas.
Velocidad de Escape es una danza de unidades astronómicas.
Una bala de cañón salta sobre los resortes del espacio y del tiempo.
Dimensión que se dilata y corroe. El fuego y el aire.
How to reach the stars?
Escape Velocity is a dance of astronomical units.
A cannonball jumps over the levers of space and time.
Dimension that expands and corrodes. The fire and air.
//blahjj´ – Tatiana Cuoco 8'24" (2016)