Making Chemozoa
Here we present boredomresearch's Making Chemozoa, which exposes some of the technical animation methods used in the making of In Search of Chemozoa. It also shows ways in which scientific concepts were added to the film, and how they influenced what the film looks like.
Mutate Chemozoa
Arizona Cancer Evolution Center have created an interactive model, which you can download. The model allows you to mutate Chemozoa, by changing the environment, feeding Chemozoa and altering mutagenic properties. Visit the site and download the model here.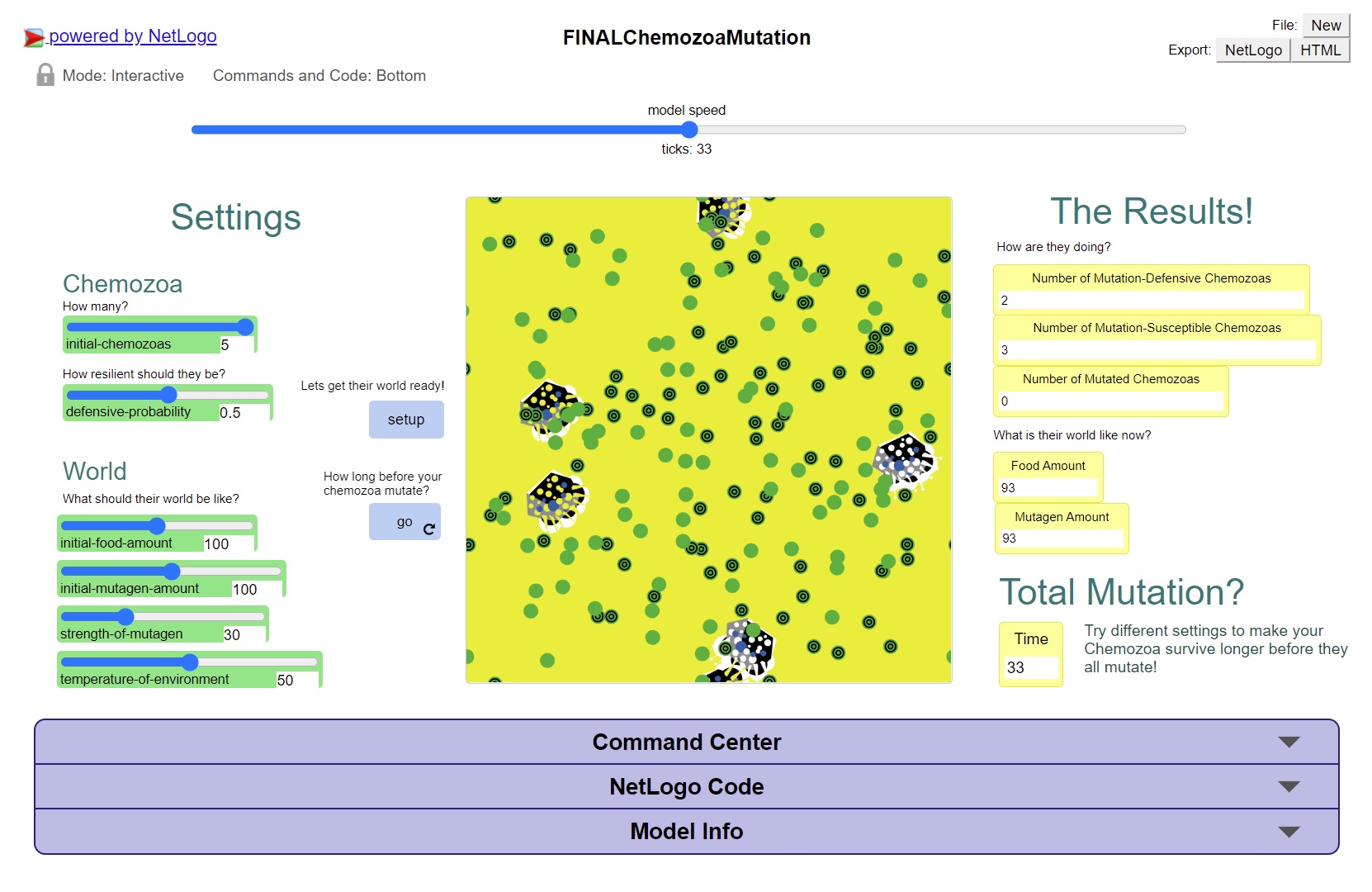 More about 'In Search of Chemozoa'
Exploring new perspectives in response to the first study of cancer across species, boredomresearch present a poetic rendering of an in silico model organism, called Chemozoa, commissioned and created in collaboration with Arizona Cancer Evolution Center (US), the artwork responds to mythical creatures documented in scientific literature to reveal tensions and interconnections between human and planetary health. Combining computer animation, filmed environments and scientific speculation, boredomresearch weaves a poetic narrative that introduces new ideas emerging from cancer research. In Search of Chemozoa looks at the 'fuzzy edge' of cutting edge science where myth, fantasy and speculation encourage creativity and insight.
When in residence at the Arizona Cancer Evolution Center in 2018-2019, boredomresearch witnessed the beauty of the Placozoan being studied by Dr. Angelo Fortunato who is developing novel model organisms to understand cancer across species. It was the complex web of ideas radiating from this simple organism that inspired boredomresearch's imaginary Chemozoa; a fictional organism that experiences the same disease process that touches so many lives. With the dynamics of cancer programmed into their cells Chemozoa are designed to survive in toxic environments that act as an analogue for chemotherapy. The artwork responds to new therapeutic approaches centered on managing rather than curing cancer. The artificial physiology of Chemozoa does not differentiate between healthy and unhealthy cells and therefore no clear distinction can be made between cancer and body. As such the Chemozoan escape the existential crisis of experiencing an internal conflict between healthy and unhealthy, self and other characteristics of cancer. The Chemozoa allows us to reflect on our own relationship with conflict, foregrounding the benefits of balance in the management of singular identities made of conflicting parts. A philosophy that extends beyond the health of the individual to encompass the health of our societies and our sustaining natural environment.
Against a backdrop of anxiety over planetary and human health, boredomresearch considers the possibility of more exotic microscopic life and the insight that might otherwise never be revealed in their absence. This microcosm, in which artistic and scientific creativity become one, allows the artists to explore new ideas of balance and stability in a world increasingly destabilised by human activity. The film proposes the existence of this mythical being through the form of pseudo-documentary with a narrative voiceover that introduces us to the imagined beings and their struggles in an atmospheric underwater world. 
In physical exhibition venues In Search of Chemozoa is presented as a three channel video installation, where the side screens provide a more micro and macro perspective of the Chemozoa and the central screen provides the central narrative and overarching environment context. For this online exhibition boredomresearch have created a single channel version of the work which focuses on the central narrative and incorporates some of the more detailed shots from the two side screens. 
In Search of Chemozoa offers us an opportunity to consider the increasing importance of ecological perspective in areas of research relating to human health where we are encouraged to acknowledge that  to live long healthy lives we first need to accept a fragile balance that plays out at the level of the cell. New insights benefit from acknowledging that the conflict between cells in the body, as seen in cancer, is the same as the conflict in ecosystems made from beings whose interests are not always aligned. In doing so we move from an aggressive 'war on cancer' dialogue to one that prioritises values of peace and stability. Nature has shown cancer researchers how to preserve health in the body. Can cancer research offer us a vision for how we can return health to a world that is becoming increasingly hostile and inhospitable?
—
To watch In Search of Chemozoa online, click here.
In Search of Chemozoa was commissioned and funded by the Arizona Cancer Evolution Center at the Biodesign Institute (USA) through an award from the National Institute of Health/National Cancer Institute, developed in partnership with Aspex Portsmouth (UK) and supported using public funding by the National Lottery through Arts Council England.
This online exhibition runs in parallel with a 3 channel moving image expression of the work at Aspex Portsmouth, UK – showing until 25 July 21. For details on the exhibition at Aspex click here.
About the artists
boredomresearch is a collaboration between British artists Vicky Isley and Paul Smith, internationally renowned for exploring an understanding of the natural world through the medium of computational technologies. Becoming intimately aware of the vulnerability of complex systems, including those which support human life on earth, they present a daring new vision for technological innovation, centered on reuniting the presently splintered domains of art, science and society.
Their work considers our strategies for coping in a world increasingly destabilised by human activity. Collaborating with world leading scientists the artists are challenging a broader concern over a tendency towards increasingly complex solutions to answer the dilemma of environmental crisis. Find out more: www.boredomresearch.net