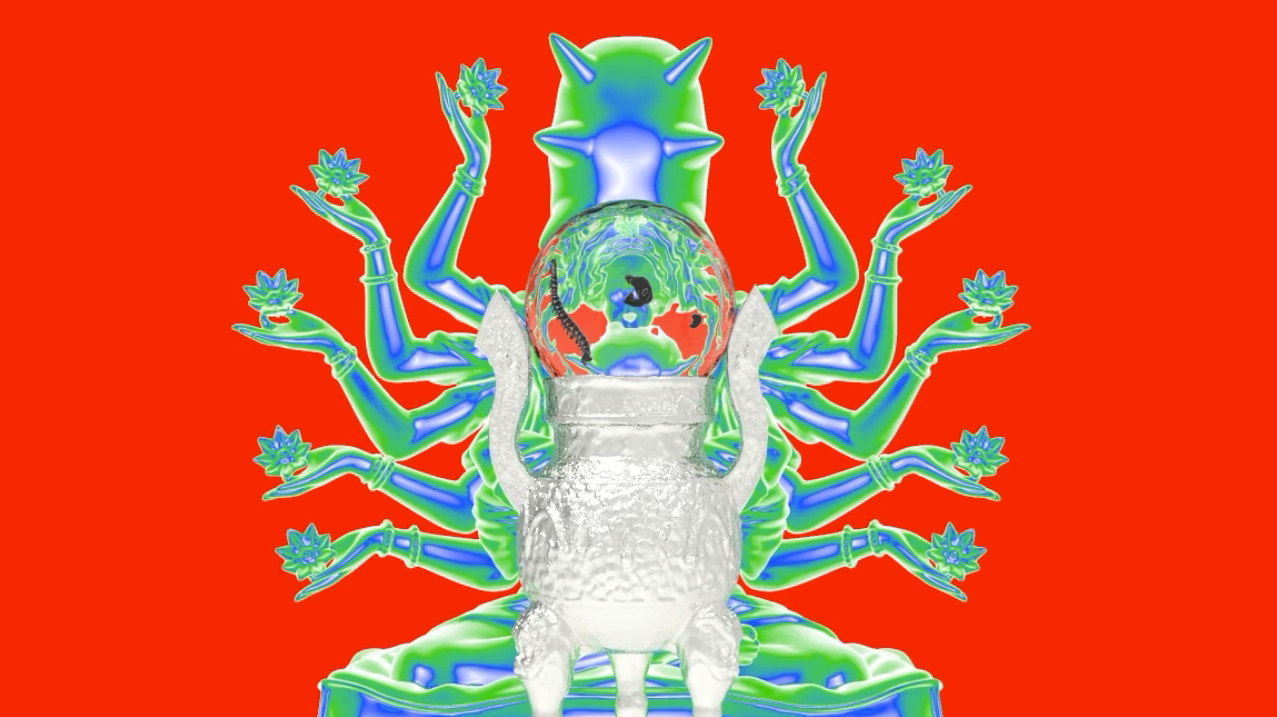 videoclub and Videotage (Hong Kong) are excited to present Both Sides Now 6: Viral Futures, the latest edition of our long-term annual project. This edition aims to reflect on life with/after COVID-19 and explores how viruses continually affect our present and future. With events including digital residencies, physical and online screenings, and talks from November 2020 to February 2021.
For details and links to the programmes: Both Sides Now 6: Viral Futures
Artists in the programme are: Adrian Garcia Gomez, Angela Su, Bob Bicknell-Knight, Cattin Tsai, Chen Pin Tao, Clifford Sage, John Walter, Laura O'Neill, Lu Yang and Pak Sheung Chuen.
Artists and programme of films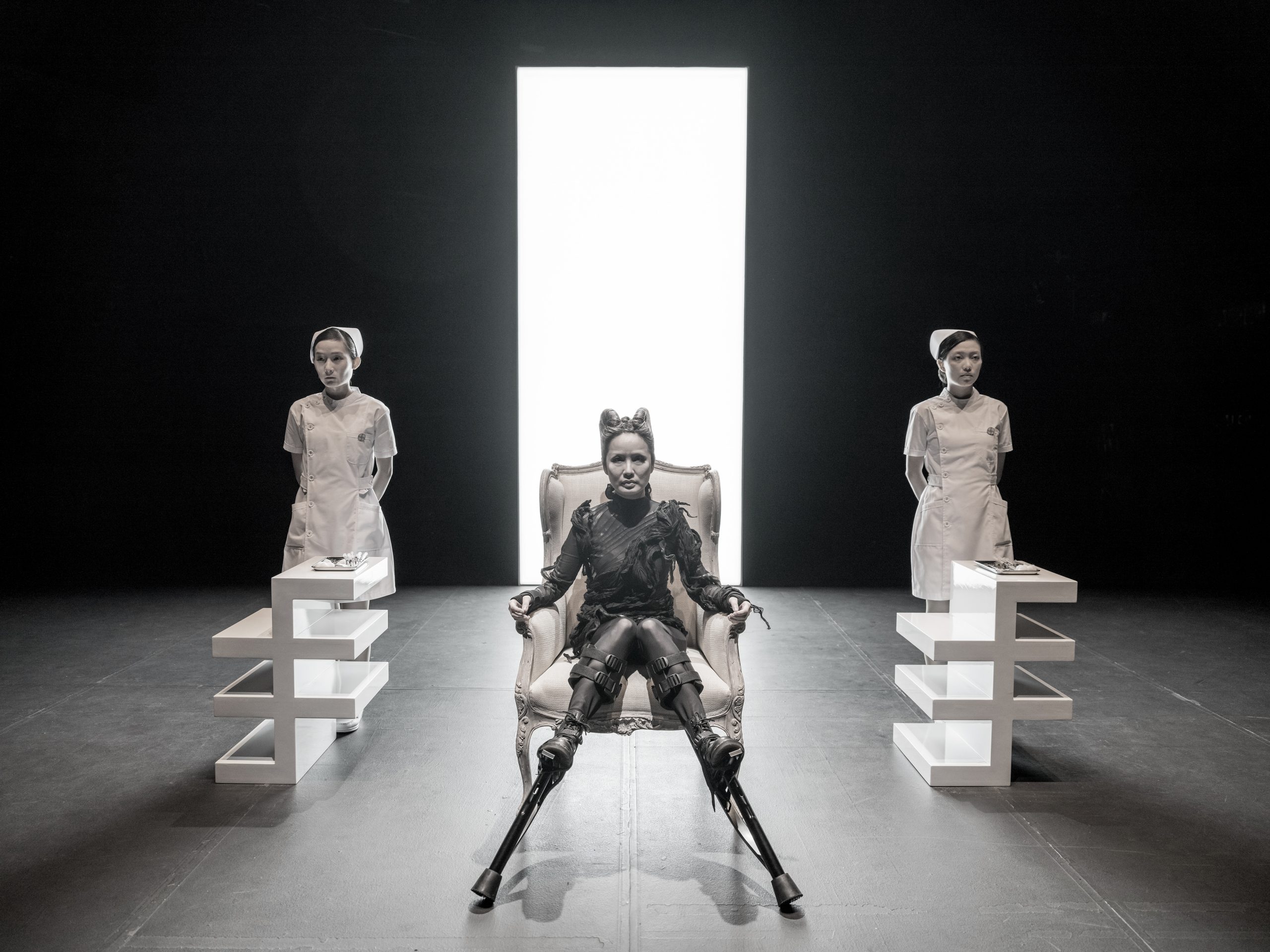 徐世琪 Angela Su – Cosmic Call (2019)
Angela Su's Cosmic Call sees the virus as a cephalopod spreading its tentacles across astronomy, borders, and archives. Cosmic Call was commissioned by the Wellcome Trust for the Contagious Cities project in early 2019, the timing of which only seems prescient now with COVID-19. Cosmic Call proposes an alternative to the western medicine-centric outbreak narrative of epidemics, and explores the cosmological and extra-terrestrial origin of infections and diseases based on a review of ancient manuscripts and a critique of Chinese medicine. The video ends with the artist injecting herself with different kinds of virus and bacteria, thereby becoming one-and-multitude with the viral paradoxes, an origin story and an end-game scenario at once.
Angela Su's biography
Angela Su received a degree in biochemistry in Canada before pursuing visual arts. Su's works investigate the perception and imagery of the body, through metamorphosis, hybridity and transformation. Through her performance-based works such as The Hartford Girl and Other Stories (2012) , she investigates the tension of the artist's dualistic state of being when under physical endangerment or distress. Cosmic Call (commissioned by Wellcome Collection in 2018) and The Afterlife of Rosy Leavers (2017) include drawings, videos, performative and installation works that explore the interrelations between our state of being and the advancement of technology. Central to these projects are video essays that weave together fiction and facts. Archival photographs, prints and film footages are systematically used by the artist to create a realm that oscillates between reality and fantasy. With focus on the history of medical science, her works challenge the dominant belief systems and contemplate the impact of technology on the past, present and future.
In recent years, Angela began to explore science fiction as her creative medium. In 2013, she published an artist novel Berty, and in 2017, a science fiction anthology Dark Fluid where she uses science fiction as a tool for social justice.
She has participated in "Sala10" (Museo Universitario Arte Contemporáneo, Mexico, 2020); "Meditations in an Emergency" (Ullens Center for Contemporary Art, Beijing, 2020); "Contagious Cities" (Commissioned work by Wellcome Trust, at Tai Kwun, Hong Kong, 2019); "Woven" (curated section of Frieze London, 2019); "Artists' Film International" (Whitechapel Gallery, London, 2019); "Pro(s)thesis" (Academy of Fine Arts Vienna, Austria, 2017); "The 2nd CAFAM Biennale: The Invisible Hand" (CAFA Art Museum, China, 2014); "17th Biennale of Sydney" (Museum of Contemporary Art, Australia, 2010).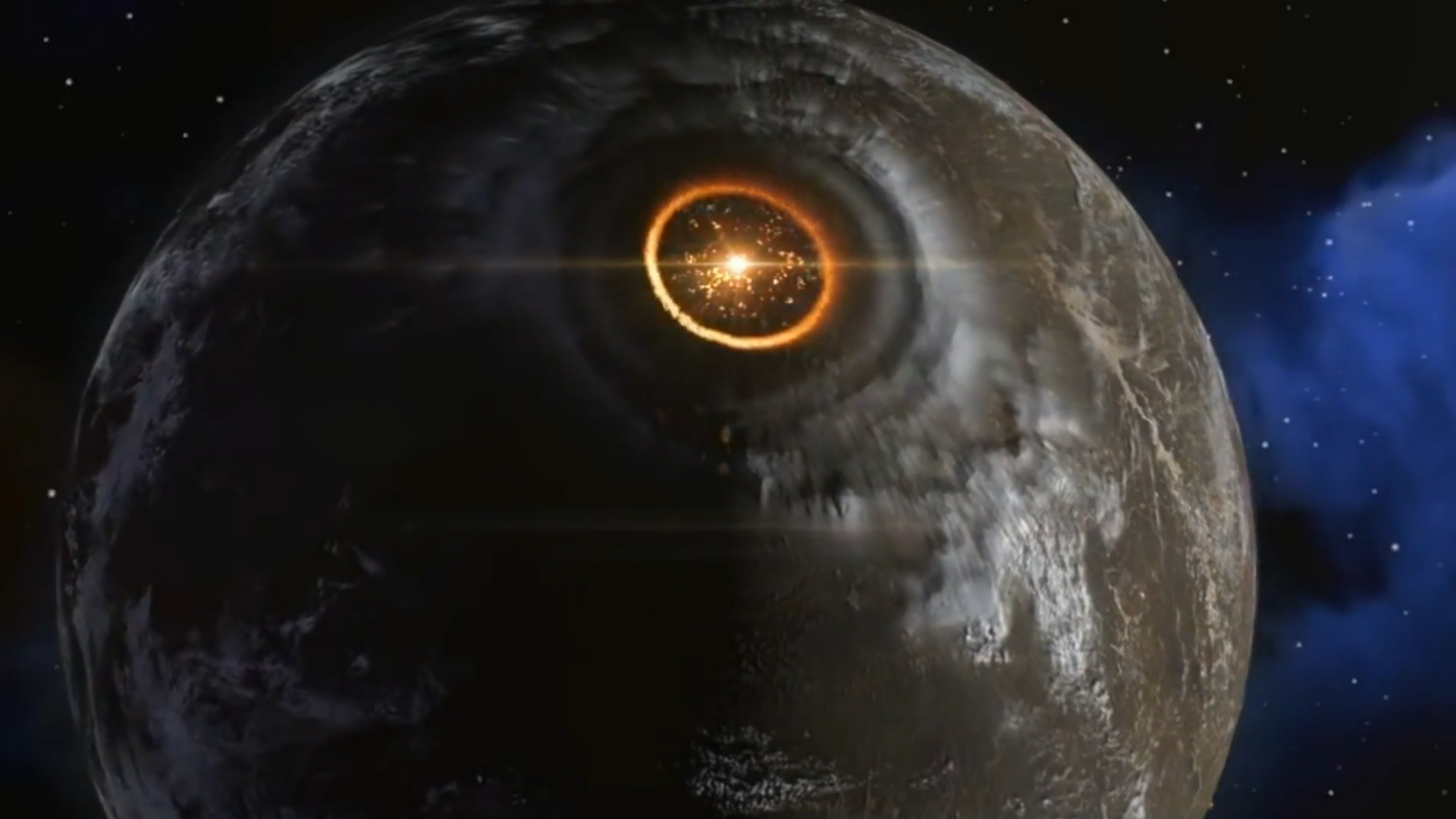 Bob Bicknell-Knight – There are already 35 server farms on Mars. It is the perfect temperature. (2017)
There are already 35 server farms on Mars. It is the perfect temperature is a looping film that explores ideas of digital escapism in the post-truth era. The piece utilises found footage taken from YouTube, a video sharing platform, accompanied by a voice actor commissioned through Fiverr, an online marketplace commonly used by corporations for adverts, reading a speculative script considering how our lives are becomingly increasingly digitalised. Groups are are now seen as a commodity, a new form of currency akin to Bitcoin or Litecoin, enabling the creation of a safety net around our physical bodies that thrives on simulating fear surrounded by fake news, letting our digital selves run wild and free with the help of VR and future technologies.
Bob Bicknell-Knight's biography:
Bob Bicknell-Knight (b. Suffolk, UK) is a London based artist, curator and writer, working in several mediums including installation, sculpture, video, and digital media. His work is influenced by surveillance capitalism and responds to the hyper consumerism of the internet. Utopia, dystopia, automation, surveillance and digitization of the self are some of the themes that arise through his critical examination of contemporary technologies.
Bicknell-Knight is also the founder and director of isthisit?, a predominantly online platform for contemporary art, exhibiting over 800 artists since its creation in May 2016.
Selected solo and duo exhibitions include Pickers at Industra, Brno (2021), Bit Rot at Broadway Gallery, Letchworth (2020), The Big Four, duo show with Rosa-Maria Nuutinen at Harlesden High Street, London (2019), Wellness, Ltd., duo show with Erin Mitchell at Galerie Manque, New York (2019), State of Affairs at Salon 75, Copenhagen (2019), CACOTOPIA 02 at Annka Kultys Gallery, London (2018) and Sunrise Prelude at Dollspace, London (2017).
Bicknell-Knight has spoken on panel discussions and given artist talks at Contemporary Calgary, Canada (2020), Tate Modern, London (2019), University of Cambridge, Cambridge (2019), Camberwell College of Arts, London (2019) and Goldsmiths, University of London, London (2018).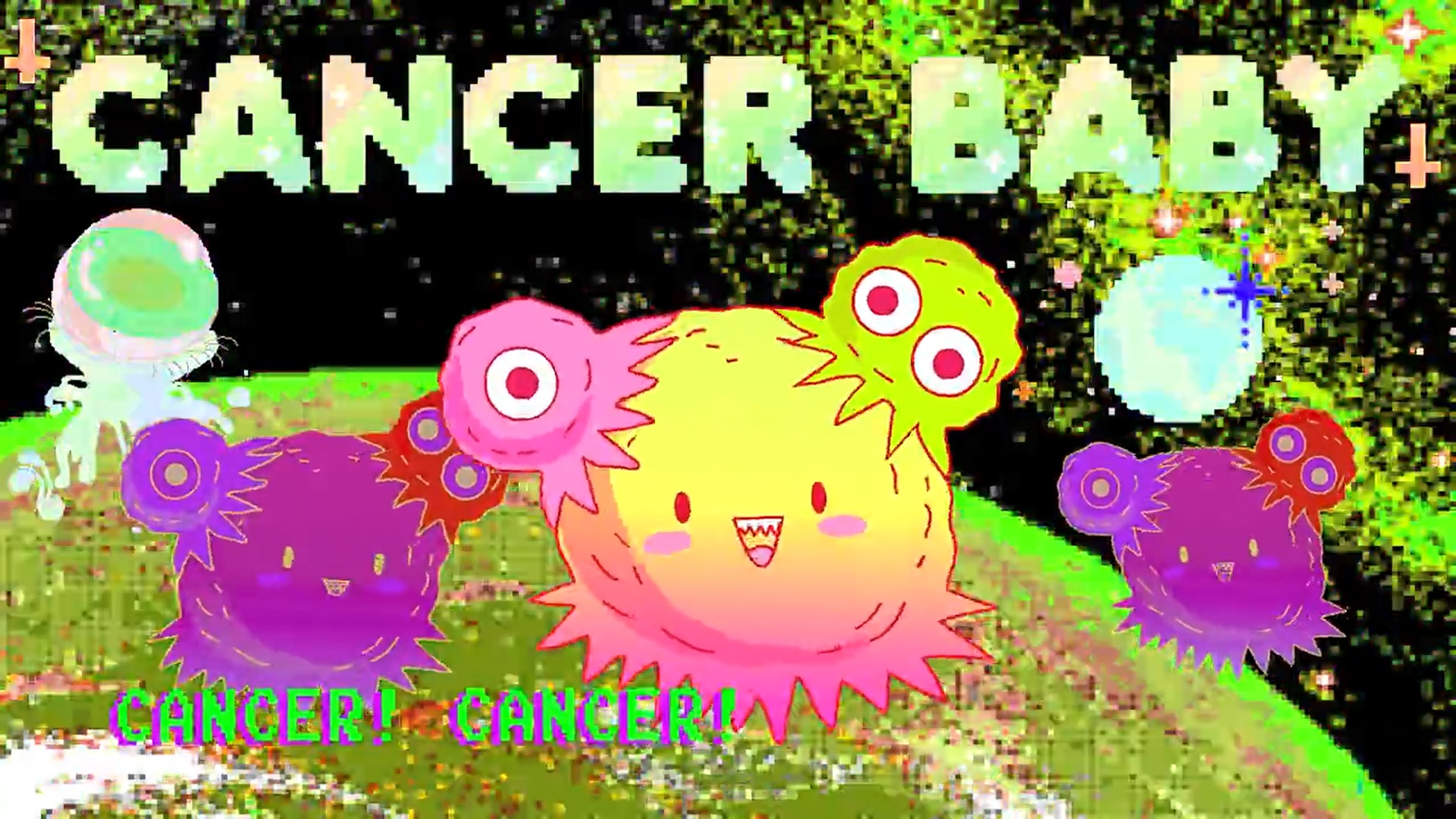 陸揚 Lu Yang – Cancer Baby (2014)
Using videogame animation, Lu Yang has metamorphosed cancer cells into animated characters in dazzling colours. The beguiling beauty of the characters, typical of Lu Yang's artistic approach, forefronts the irony and cruelty of the real world that must be navigated.
Lu Yang's biography
Lu Yang (b. Shanghai, China) is a multi-media artist based in Shanghai. Mortality, androgyny, hysteria,  existentialism and spiritual neurology feed Lu's jarring and at times morbid fantasies. Also taking  inspiration and resources from Anime, gaming and Sci-fi subcultures, Lu explores his fantasies through  mediums including 3D animation, immersive video game installation, holographic, live performances,  virtual reality, and computer programming. Lu has collaborated with scientists, psychologists, performers,  designers, experimental composers, Pop Music producers, robotics labs, and celebrities throughout his  practice. 
Lu Yang has held exhibitions at UCCA (Beijing), MWoods (Beijing), Cc Foundation (Shanghai), Spiral  (Tokyo), Fukuoka Museum of Asian Art (Fukuoka, Japan), Société (Berlin), MOCA Cleveland (Cleveland,  Ohio). He has participated in several international biennials and triennials such as 2012 & 2018 Shanghai  Biennial, 2018 Athens Biennale, 2016 Liverpool Biennial, 2016 International Digital Art Biennale  (Montreal), Chinese Pavilion of the 56th Venice Biennale, and 2014 Fukuoka Triennial. In 2019, Lu  became the 8th BMW Art Journey winner and started the Yang Digital Incarnation project.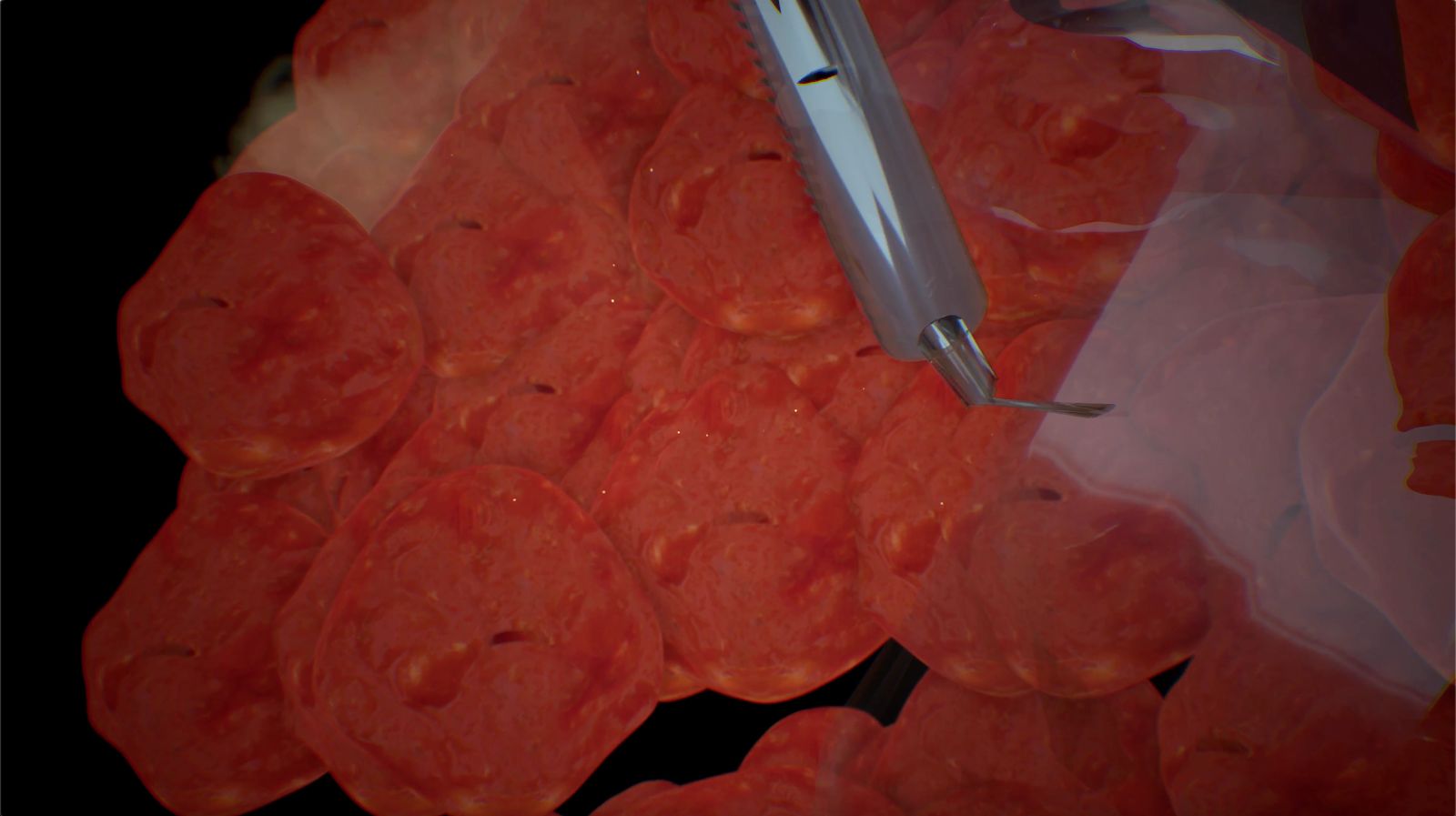 Laura O'Neill – AGAIN AGAIN AGAIN (WHY I FEEL SICK WHEN I WAKE UP)  (2018)

Hard times for beings of the sensitive kind, tentacles groping for new attachments to be made.
In this short animation, a lone character (myself) crosses Europe during a degenerated mid-apocalyptic Brexit delirium (2018). Where things, data, people and other species move around, with greater or lesser difficulty – because they want to, need to, or 'just do so'; navigation rather than position becomes key to identity across a horizontal plane of possibilities. Spatiality through virtual movement and labour; dust covered words reappear into a tangled stare and somehow we cannot go back again. Laced with a personal narrative about family and life during the last few years.
Laura O'Neill's biography
Laura O'Neill (b.1990, Wigan, UK) is always making something; sometimes animations, sometimes AR filters, sometimes sound, sometimes sculptures, sometimes video games, sometimes she works with others and sometimes she works for other people. Her recent commission, Rise is a WW2 Memorial for the Memory of the Crew Lost in Action, due to be unveiled in 2021 in Almere, NL. Selected screenings include: ICA, London; Home, Manchester; Spike Island, Bristol; CCA, Glasgow; Hiroshima International Animation Festival, Japan; Tramway, Glasgow and Centro De Cultura Digital, Mexico D.F. O'Neills work is included in private collections and public collections including De Rechtbank, Amsterdam and the Gemeente Almere, NL.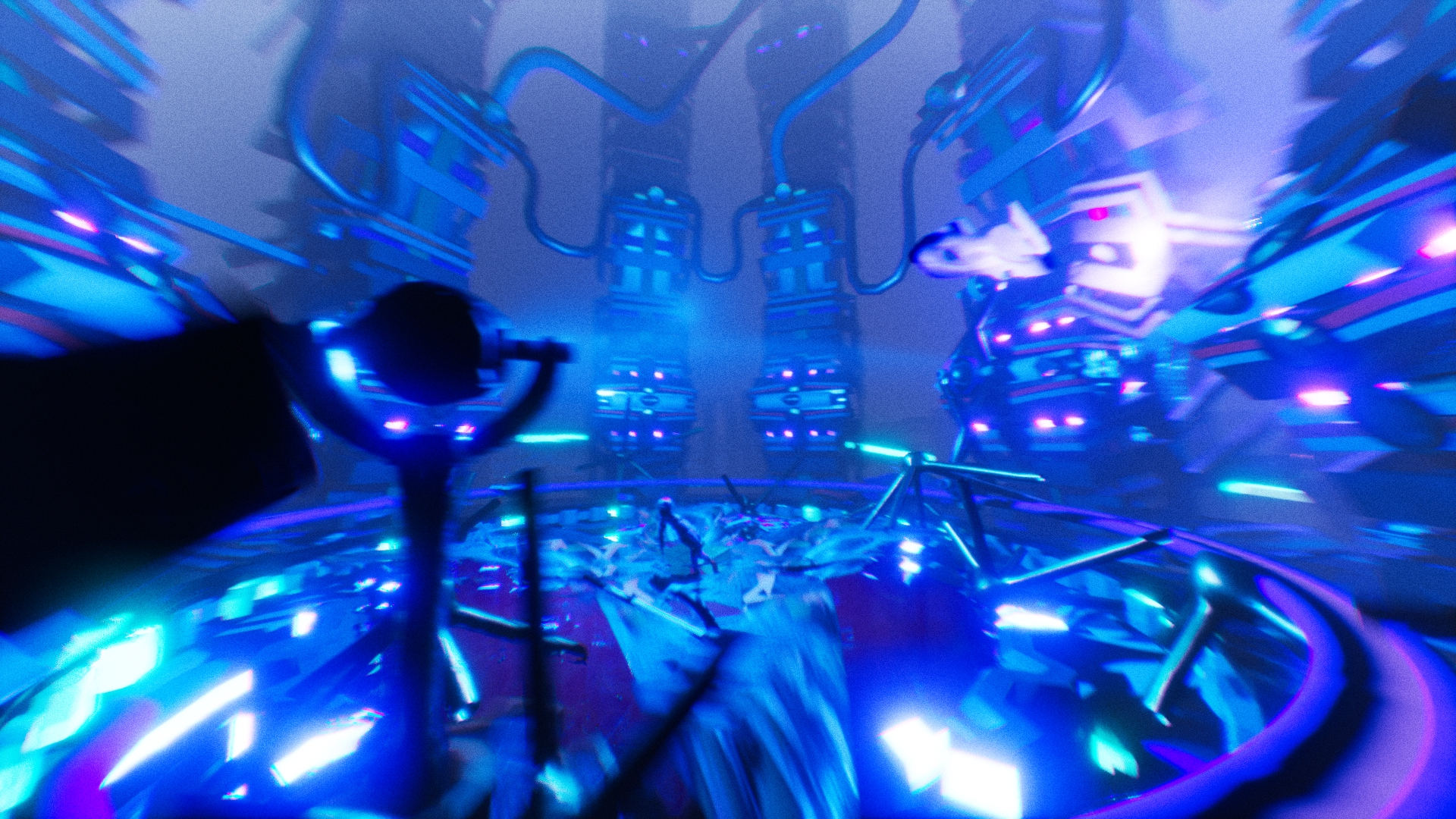 Clifford Sage / recsund – Buddha Geometry Brain Toy (2017)
In Buddha Geometry Brain Toy we see ProDance® navigate a small array of passages in a vast wasteland. He is accompanied by his long lost fear, the Xenomorph. But instead of running from Xenomorph, he moves to confront his fear. The planet he's on is riddled with an abundance of multidimensional tools. One being a rudimentary teleportation centre created by a past human race. A technology that allows one to teleport beyond the speed of light, and in the process saves and formats the body and soul.
Clifford Sage's biography
Clifford Sage is a CGI moving image artist based in London. Often working with animation and virtual world building, Sage explores audio interaction and non-linear storytelling through game engines. Since graduating in Visual Communications from the Royal College of Art in 2010, Sage has collaborated and worked with many artists over the years, recently with Iain Ball, Lawrence Lek, Lee Gamble, Sidsel Hansen, Candice Lin, and has appeared on the cover of Wire magazine as part of Quantum Natives. Recent projects include Tuner, which has been exhibited and performed at Somerset House Studios, London (2018), Club Adriatico, Ravenna, IT (2018) and LEV Festival, ES (2019).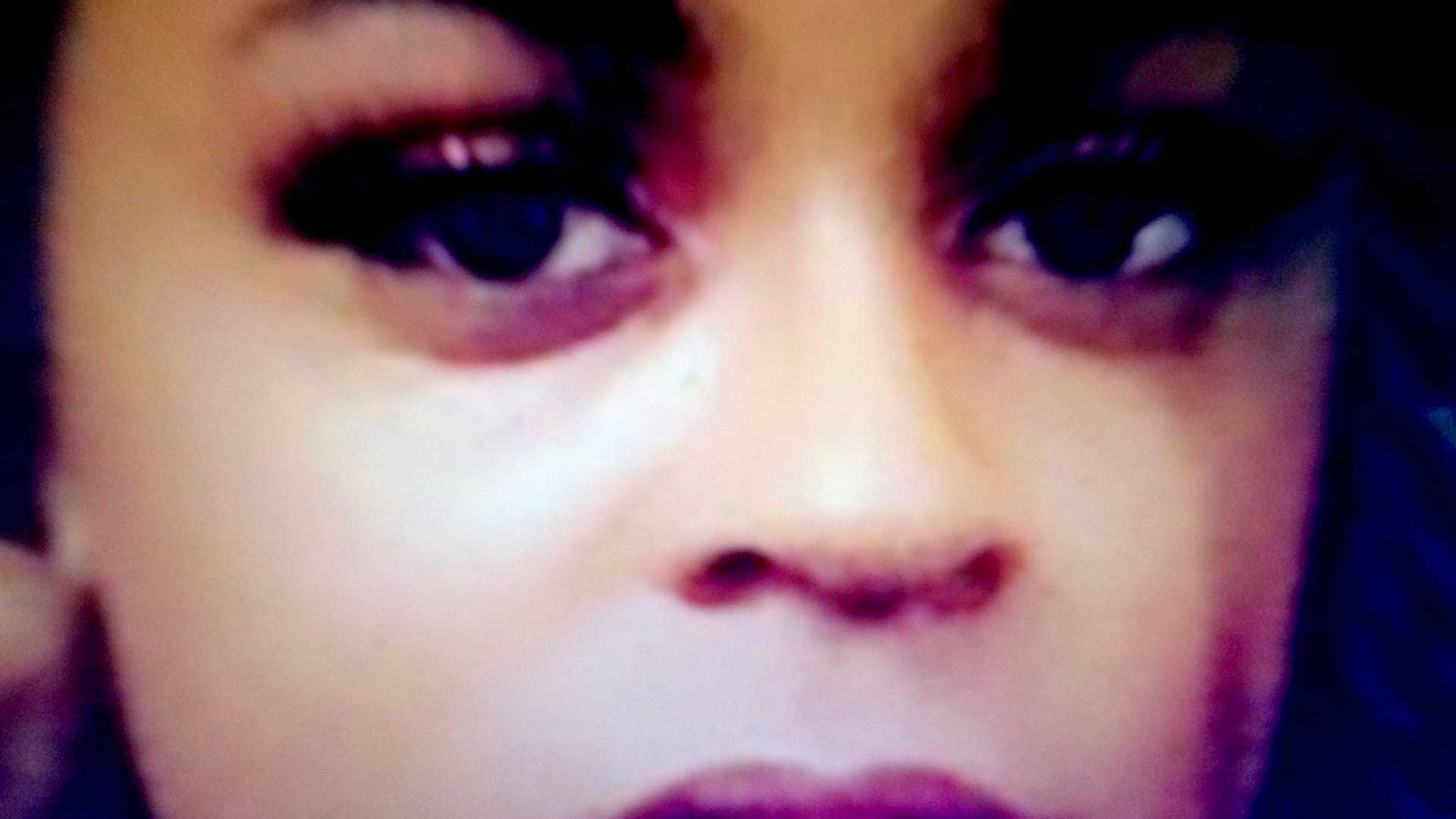 Adrian Garcia Gomez – Primavera (2020)
Primavera is a frenetic experimental animation that documents the pandemic and the Black Lives Matter protests as they intersect in springtime Brooklyn.  Shot during isolation on a phone, the video explores the effects of imposed distance on touch and intimacy, the proximity of an invisible virus and invisible deaths and the revolt against the racist, corrupt systems that commodify, exploit and render their most vulnerable citizens disposable.  The video also parallels the current uprisings with the queer liberation movement which began as a riot at Stonewall and was led in large part by trans people of colour who still experience violence at disproportionate rates.
Adrian Garcia Gomez' biography
Adrian Garcia Gomez is an interdisciplinary artist working in film/video, photography and illustration.  His artwork, which is largely autobiographical and often performative, explores the intersections of race, immigration, gender, spirituality and sexuality.  His short experimental films, photographs and drawings have exhibited around the world.  He currently lives and works in Brooklyn.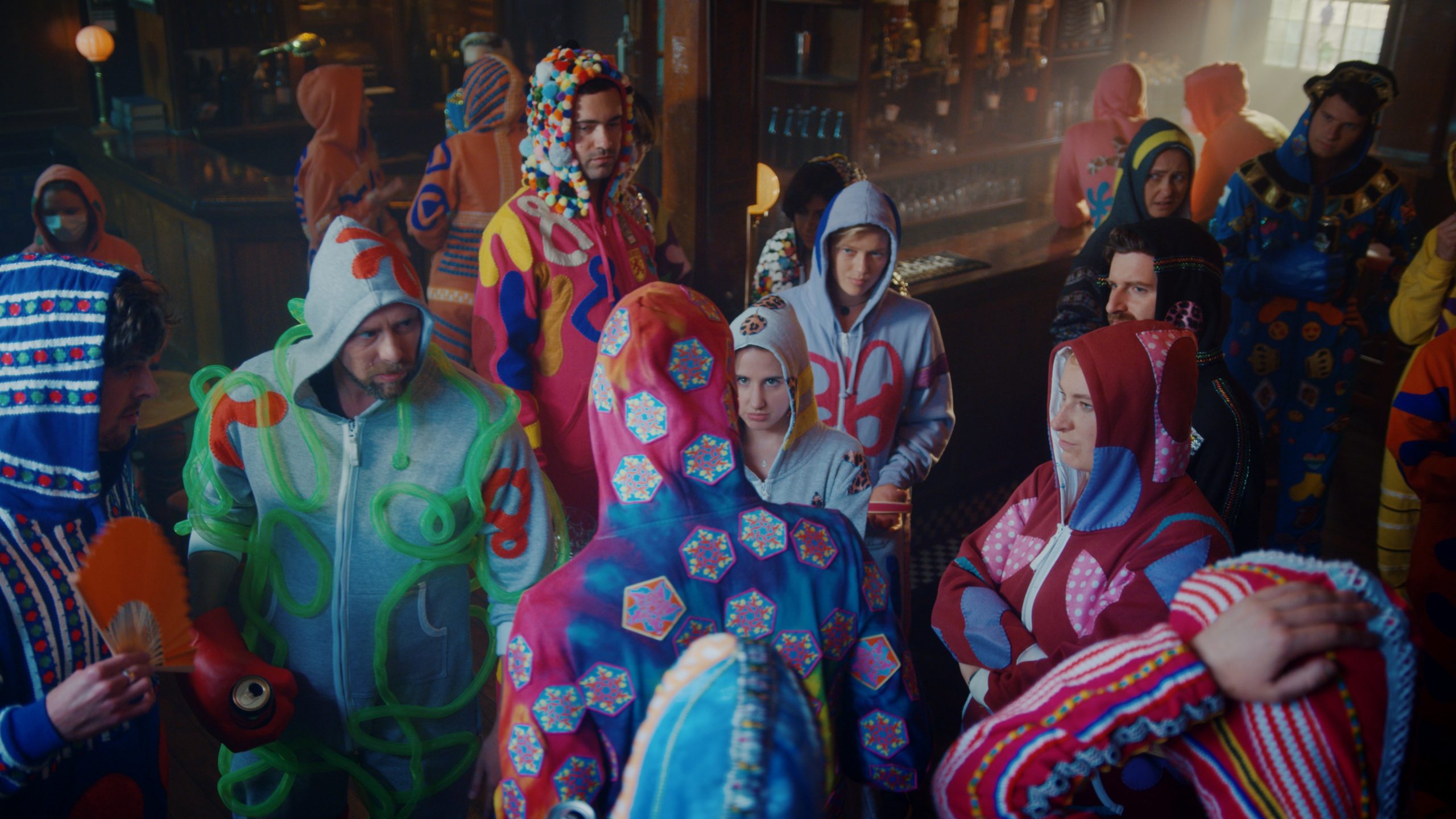 John Walter – A Virus Walks Into a Bar (2018)
Capsids are the protein shells of a virus, which act to protect, cloak and deliver the virus to its host, and ultimately to enable the infection to spread.
A Virus Walks Into A Bar (2018) is John Walter's most ambitious film to date. It narrates the life cycle of an HIV particle as if it were set somewhere between Coronation Street, Twin Peaks and The Teletubbies. The characters include an anthropomorphized capsid, along with other key proteins, co-factors such as CPSF6 and the targeted cell nucleus, depicted by the barmaid surrounded by regulars (the cytoplasm). The high-definition video image contrasts with the handmade quality of the costumes, all produced by Walter, who also wrote, directed, co-edited and designed the sound for the film.
A Virus Walks Into A Bar was co-commissioned by Southwark Park Galleries London and HOME Manchester – supported by a Large Arts Award from Wellcome and Arts Council England Grants for the Arts as part of Walter's large-scale project CAPSID, created in collaboration with Towers Lab, UCL and project-managed by SMART, Aberdeen.
John Walter's biography
John Walter is a London-based artist working across a diverse range of media including painting, performance, moving image, installation and curating. He is currently artist-in-residence at Kavli Institute for Nanosciences at TU Delft, The Netherlands.
Previous collaborations with scientists (CAPSID, 2018 and Alien Sex Club, 2015) have informed his current interest in viruses of the mind and take an increasingly Darwinist view of human production informed by Dawkins' notion of the meme as a unit of cultural replication equivalent to the gene in biology. He was awarded the 2016 Hayward Curatorial Open for Shonky: The Aesthetics of Awkwardness.
Recent exhibitions include: Lockdown Tarot (Plymouth Art Weekender, 2020); Queer Algorithms (Gus Fisher Gallery, Auckland, 2020); Co-Factors (Suttie Arts Space, Aberdeen, 2020); Brexit Gothic (DKUK, 2019); Crep Suzette – A Shoe Show (with Bert McLean, LUVA, 2019); The Fourth Wall (Look Again Festival Aberdeen, 2019); Booze Guitar (Matt's Gallery, 2018); CAPSID (CGP and HOME, 2018); Somewhere in Between (Wellcome Collection, 2018); Coming Out: Sexuality Gender and Identity (Walker Art Gallery, 2017). Wellcome and Arts Council England have supported his work. The Arts Council Collection and The Walker Art Gallery in Liverpool have collected his work.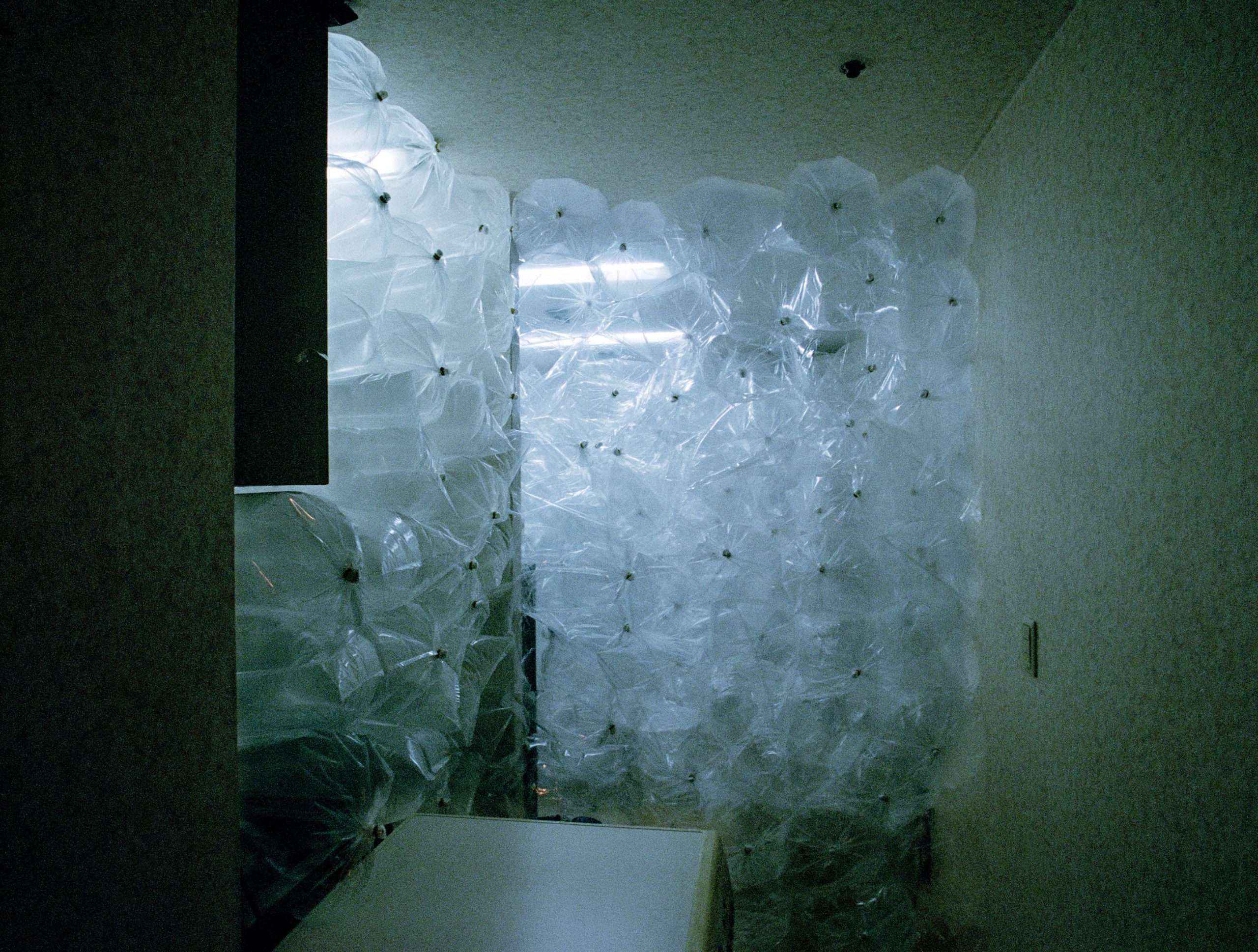 白雙全 Pak Sheung Chuen – Breathing in a House (2006)
I live in a small house, Breathing, Until I use up all the air in the whole house.
One night I slept on my own bed, staring at the ceiling, thinking of nothing, but indistinctly heard my own breathing, and I suddenly asked myself, 'How long does it take to breathe in all the air of this room?'. This is how this work was conceived. And then there came a chance to realize this idea at the Busan Biennial in Korea. I rented an apartment (6.7m x 2.7m x 2.2m, as small as an apartment in Hong Kong! ) in Busan. I lived in this small apartment as usual, but I collected the air I breathed with transparent plastic bags until the whole apartment was filled with these plastic bags with my own breathing. The whole process took 10 days. It felt like part of my life belonged to this apartment.
Pak Sheung Chuen's biography
Pak Sheung Chuen was born in 1977. He lives and works in Hong Kong. He obtained his B.A. degree in Fine Arts and Theology from Chinese University of Hong Kong in 2002. One of the most promising conceptual and performance artists working today, Pak's practice often deals with and reflects upon the contradicting absurdness and ordinariness of everyday life in a poetic and humorous nature, thus creating a critical yet poignant sentiment for its viewers. His works were published in a local newspaper Ming Pao almost weekly 2003-2019.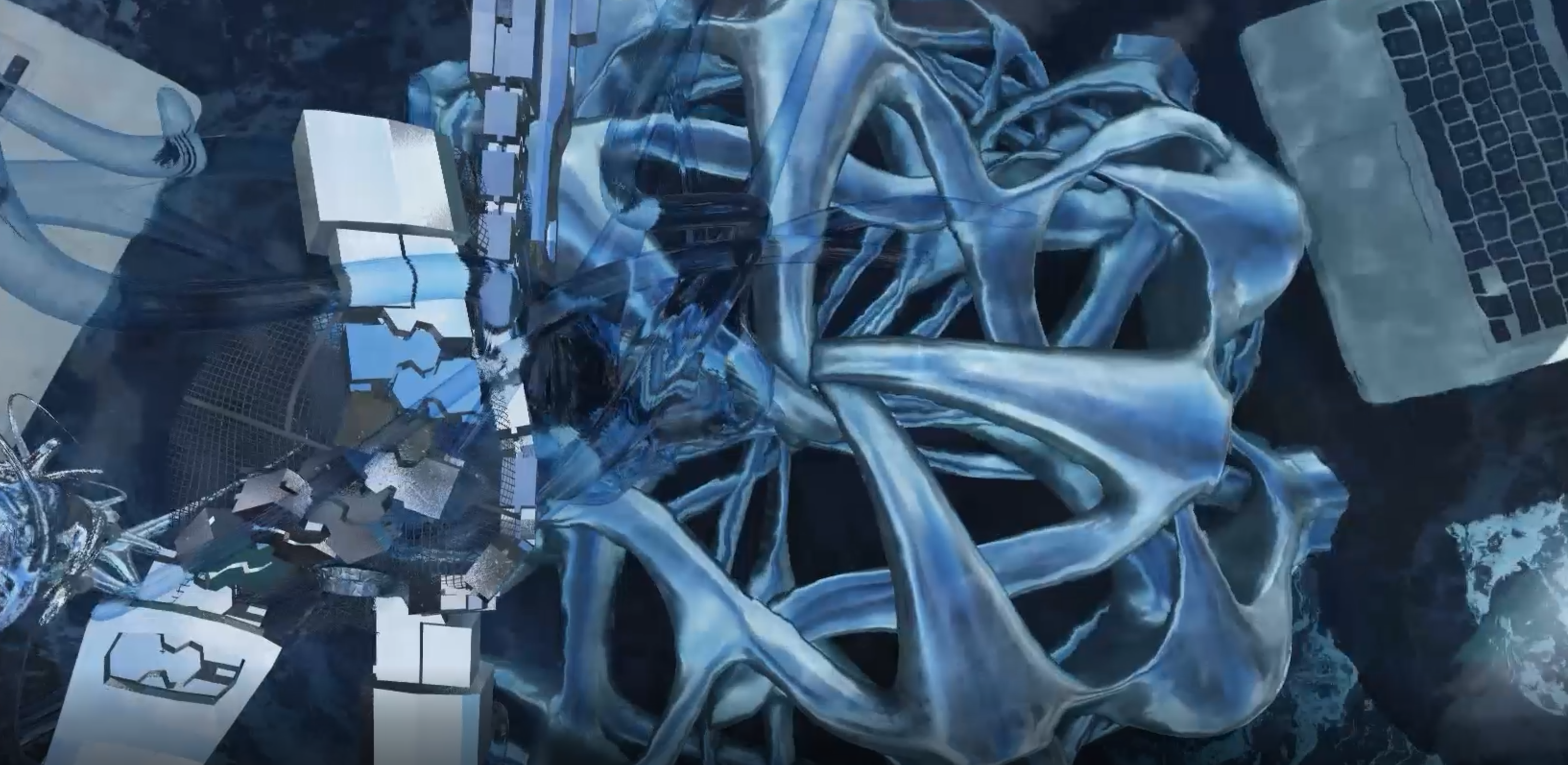 蔡琪玟 Cattin Tsai – Memes 2020 (2020)
Memes 2020 is a work Cattin made during the pandemic, in which she applied a post-internet approach to creating a metaphor for this pandemic situation where human beings are confined to limited spaces. Large transparent blue tubes, like the blood vessels inside the human body, are connected and intertwined. These giant ties appear frequently in Cattin's work like the branches of trees. Just as we construct the world while being entangled by the construction, in Cattin's work, there is a sense of black humor. Beneath the glacier, the ocean hosts countless comfortable beds, where the pigs staying on these hospital beds mechanically repeat a few movements, surrounded by countless computer screens.
Catting Tsai's biography
Inspired by her curiosity and continuous exploration of the unknown, she attempts to use multiple dimensions to construct and express the virtual world in mind.
Like the tentacles of the cyber jellyfish that she had created, her work extends without limitation, including music, visual art and beyond…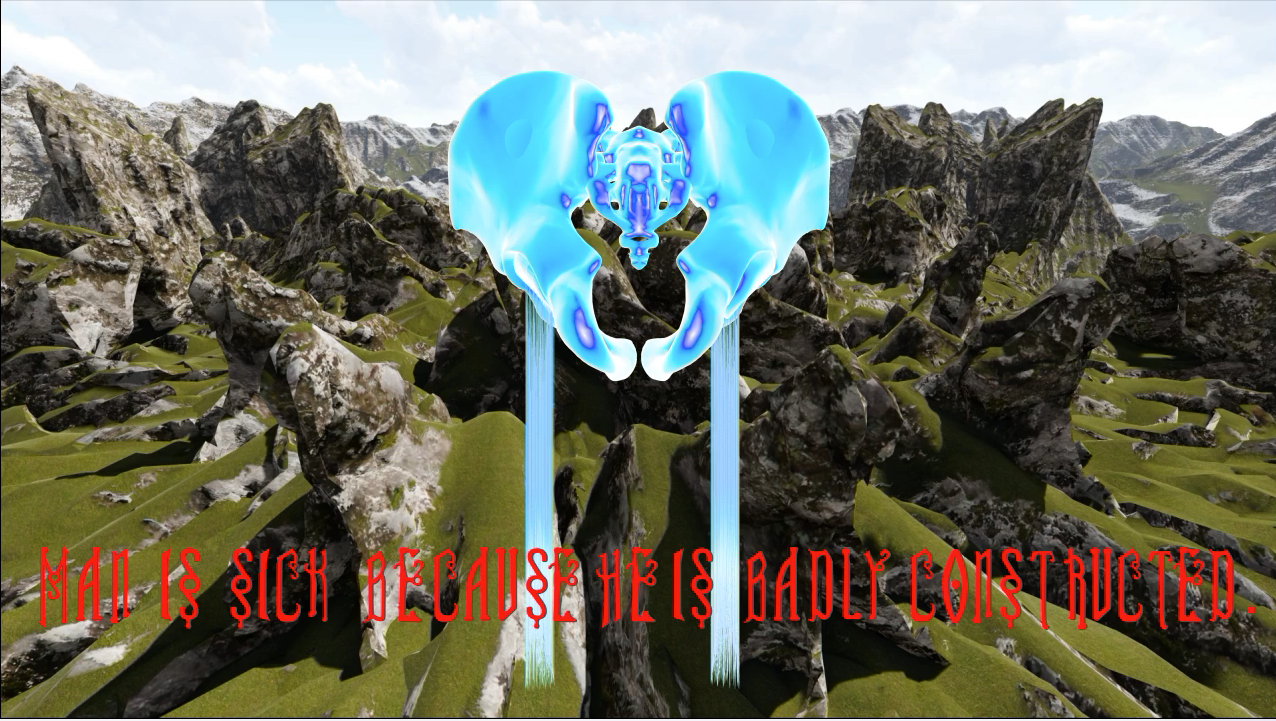 陳品陶 Chen Pin Tao – Temple of Physiotology (2019)
Chen Pin Tao's Physiotology series embodies an existential angst towards the nature of being. It puts forward propositions in which religion and conventional cultural establishments are questioned. In the video work Temple of Physiotology, both fact and fiction are obscured to create factish narratives. Through these narratives, an otherworldly space-time continuum is generated for the viewer to dwell and experience.
The work revolves around the historical Peruvian city of Chan-Chan as context. The recorded mythical and historical information of the context acts as seedlings for the development of fact-ish storylines. The narratives hints at themes of religion, fetishism, totemism, gender, nature, and the notion of being with an anti-natalist and nihilist perspective. Through a tribalistic ritual and trance-like visual experience, the work conveys discontents towards a mainstream creationist dogma, and the faulty construction of the human body.
Chen Pin Tao's biography
Descendent of an esteemed violin maker and hailing from a lineage of master craftsmen, Tao's refined objects and assemblages contain immense exotic, ethereal, and incorporeal allure, embedded within their exuberant complexity and virtuosity unraveling between both folk traditions and technological acceleration.  These objects are means to excavate alienated ancestral history through deep introspection, and are tools to overcome humanity's inability to comprehend and preserve the sublime.
Reality is stranger than fiction.  Tao's primary interest resides in the exploitation of the splits in reality, and the examination of object-oriented fetishism. In an accelerated and trance-like state induced by the fissures between contemporaneity, metaphysics, spirituality, and their metamorphosis, decadence, intense desires and asceticism, Tao creates ecstatic realities––or emergence––through the alchemy of objects and architecture, expanding the already rich ontological vocabulary of Chinese materialism.
Tao's reality emergence devices (portals, thresholds, gargoyles) are means to manipulate objects bridging through the virtual (noumena) and reality (phenomena), allowing the qualia of objects to be extracted, mutually exhausted, and elevated. The language and ecological logic of these realities avoid conventional phenomenological grasp, producing semiotic slippage and inhabiting a withdrawn potentiality of space, object and imagery.
These spatial and symbolic dimensions are not merely vessels encapsulating entropic qualities, but individual ontological beings, complex enough to seek release from an established organization, to determine and generate a multiplicity of their own ontologies, and to manifest further enlivenment and cosmology, across volumetric, visceral, and physical scales. With the given structure of deeply ordered chaos, infinite malleability, permanence, impermanence, destruction, and rebirth, these ontologies contain infinite transformative potential.
For more information about Both Sides Now go to the website: both-sides-now.org