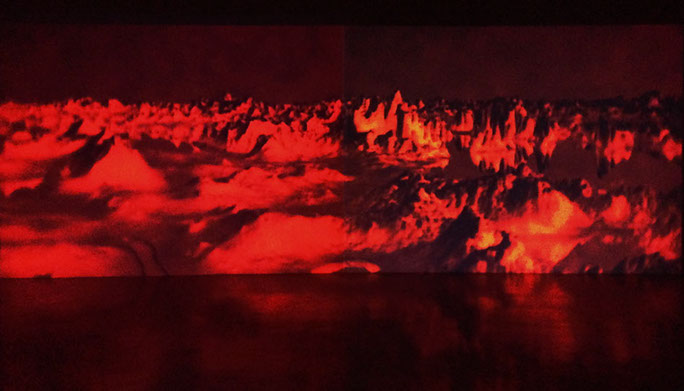 Artists in residence across China and the UK
Both Sides Now supports four artists in residence in 2015, enabling the programme to benefit practitioners, and to further support cultural exchange between China and the UK.
Two artists from each country will exchange, working at cultural institutions, where they will have access to local resources and contacts. The aim of the residency programme is to provide artists with the opportunity to explore new practices, develop new work and experience new cultures and share experiences.
The four artists in the programme are: Lucy Clout, Wong Ping, Daniel Shanken and Shi Zheng. The programme is supported by Centre for Chinese Contemporary Art (UK), Cinecity + Phoenix Brighton (UK), V Art Center (in association with Chronus Art Center), and Wuhan K11 Art Village.
Daniel Shanken at Wuhan K11 Art Village, Wuhan, China
Residency dates: 19 July – 15 August 2015
Daniel Shanken is an artist from Los Angeles, USA, living and working in London, UK. He works in a variety of mediums drawing from the likes of hypnotherapy, neurology, advertising, and scripted spaces. Recently his work has been shown at the Whitechapel Gallery, CCA Glasgow, Nottingham Contemporary, Five Years Gallery, Kiasma Helsinki, and CGP London.
K11 is committed to promoting the development of contemporary art and the communication between young artists in the fields of visual arts, design, multimedia, music and other creative genres. K11 art village hopes that through art exhibitions and exchange activities in our art spaces, the habitats of the community can become the basis of an artistic life. Art events are organized for the whole community to participate, thereby strengthening the linkage of art, people, nature.
K11 art village provides a platform for young artists dedicated to their art and yet do not have the financial means to support themselves. We are constantly in search of young artists who are full of talent, passion and unique ideas and invite them to join our artist-in-residence programe to use our artist studios for creation. Moreover, they can gain access to a wide range of nationwide and overseas creative resources, exhibition opportunities, media exposure, academic exchange, as well as public awareness.
Lucy Clout at V Art Center, in association with Chronus Art Center, Shanghai, China
Residency dates: 1 – 16 August 2015
Lucy Clout
Lucy Clout's previous work has investigated the experience of viewing performance, interrogating the communicative aspects of the physical and social relationships between the audience and the art-object/performer. She graduated from the Royal College of Art with an MA in Sculpture in 2009, and has exhibited in commercial and non-commercial spaces in the UK and internationally.
Established in 2010, V ART CENTER is located in the Shanghai M50 Innovation Park. As a non-profitable space affiliated with SIVA of Fudan University, the center is presided by Mr. Ding Yi, a famous modern artist and an associate dean of SIVA. Both of its exhibition halls in Building No. 3 and No.6 are being operated in an open manner. This young space shall maintain its vitality all the time, presenting a dialogue platform for modern arts in Shanghai.
Established in 2013, Chronus Art Center (CAC) is China's first non-profit art organization dedicated to the presentation, research / creation and scholarship of media art. CAC with its exhibitions, residency-oriented fellowships, lectures and workshop programs and through its archiving and publishing initiatives, creates a multifaceted and vibrant platform for the discourse, production and dissemination of media art in a global context. CAC is positioned to advance artistic innovation and cultural awareness by critically engaging with media technologies that are transforming and reshaping contemporary experiences.
Shi Zheng at Phoenix Brighton with Cinecity at the University of Brighton, UK
Residency dates: 2 October – 8 November 2015
Shi's work takes on multiple forms such as audio-visual installation work, recordings, and concert pieces. He composes time-based sculpture, using field recordings and digital generated structures, and reconstructs, architecturally, audiovisual phenomenon.
In 2013, Shi Zheng co-founded new media group RMBit with nenghuo, Zhipeng Wang, and Wei Weng. The group has participated in several significant exhibitions and performance, including exhibitions and performances in art institutions and cities, such as Beijing, Shanghai, Hong Kong and Taipei.
In recent years, his work has been shown at international festivals including Sound Art China 2014 (HongKong), Sound Art China 2013 (Shanghai), FILE Electronic Language International Festival (Brazil), Today Art Museum (Beijing) and Ars Electronica 2012 (Linz).
Phoenix Arts Association Ltd (trading as Phoenix Brighton) is a charitable (not-for-profit) arts organisation based in central Brighton.
Its charitable objectives are:
1.The promotion of the arts
2.Advancement of public education in the appreciation, production and practice of the arts, particularly in the towns of Brighton & Hove, and in other areas of Sussex
3.To relieve poor artists by providing workspace and studio facilities and by the provision of advice in artist development seminars.
Phoenix provides 100+ studio spaces, short-term project space for hire by community groups and supports a gallery and education programme which bring together professional artists and the general public in a friendly and creative environment.
CINECITY is a partnership between the Duke of York's Picturehouse, Screen Archive South East and the University of Brighton. We deliver a year-round programme of film and moving image events, screenings and exhibitions and present the annual CINECITY The Brighton Film Festival, the region's major celebration of film. Our patrons include Nick Cave, Paddy Considine, Steve Coogan, John Hillcoat and Henry Normal.
CINECITY celebrates its 13th edition of the festival in November 2015 with the very best in international cinema and a global mix of premieres and previews, artists' cinema and installations, treasures from the archive, retrospectives, free education screenings and events, talks and debates.
Wong Ping at Centre for Chinese Contemporary Art, Manchester, UK
Residency dates: 25 September – 6 December 2015
Wong Ping
Wong Ping is a Cantonese animator and director based in Hong Kong, mixing topics such as teenage lust, shame and sexual suppression with a surprisingly fresh and luscious colour palette. NOWNESS writes about him: "Wong Ping gives new meaning to NSFW… His gasp-inducing imagination feeds into our child-like curiosity to toy with social and cultural taboos". He likes to hike, which gives him numerous, randomly meaningless but beautiful inspirations.
Wong Ping was selected as one of the Saatchi & Saatchi 2013 new directors and his work has been internationally screened and exhibited.
The Centre for Chinese Contemporary Art (formerly Chinese Arts Centre) is leading the UK in exploring a changing international dynamic. This is the Chinese Century and Chinese contemporary art and visual culture is a vibrant force, fast gaining momentum.
CFCCA has a proud 29-year history of 'first' UK solo exhibitions, featuring exceptional artists that go on to achieve international acclaim. We work with a wide array of partners to provide people with a lively and innovative programme of exhibitions, residencies, engagement projects, festivals, symposia and events.
CFCCA is uniquely placed to explore the Chinese Century through art and the trans-cultural debates that will shape our future.