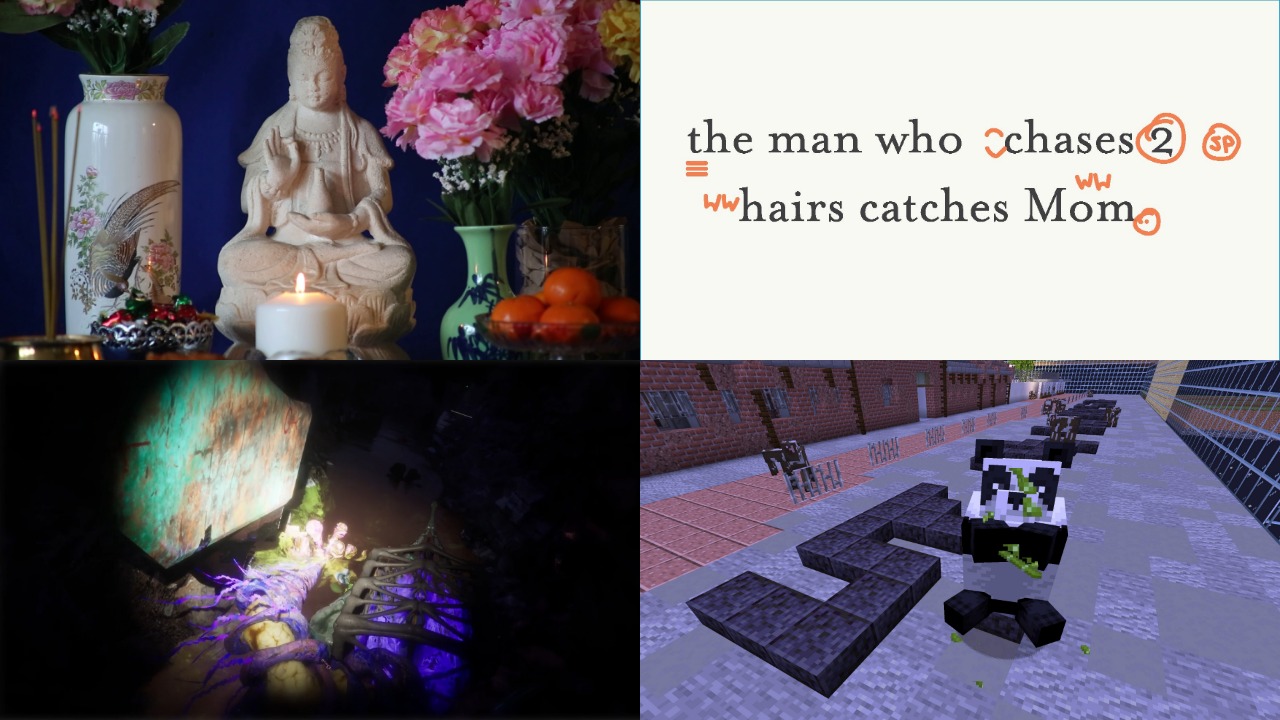 Inside Your Body
Inside Your Body is an exhibition of work created by Jaene F. Castrillon, Damien Robinson, Clifford Sage and Angela Su during a month-long online residency on Vital Capacities in November 2020. 
Exhibition dates: From 7 December 2020
Exhibition site: vitalcapacities.com
Angela Su has been participating in Videotage's Minecraft residency, Leave Your Body, and recording and contextualising what she's been creating on Vital Capacities. By replicating a series of symbols in Minecraft from the Dutil-Dumas message (Cosmic Call, an interstellar message sent to four star systems about humanity, and the title of one of Su's previous works), Su has been exploring the influence of Hong Kong's protests on gaming, digital activism, and the collision between digital and physical worlds. 
Damien Robinson has been exploring errors in translation – errors that result from mis-lipreading (when words have similar mouth shapes to one-another) and how AI transcribers produce 'word salad' (garbled mis-hearings). Robinson has created a collection of Risograph prints (physical prints from digital files), which show errors in AI notetaking, using – what are for most people – indecipherable proofreading marks. Through this work Robinson emphasises the extra concentration required when using AI transcribers, which are now ubiquitous. And highlights how what is often celebrated as an access solution can also lead to confusion. 
Clifford Sage spent his residency working on building his game world, Tuner. Originally created as an audiovisual piece for an experimental live AV project for Somerset House in 2018, Tuner has had various manifestations. For Vital Capacities, Sage has been developing Tuner to be a playable download, a development from its origins as a body-responsive performance piece. He has recorded a film of game play in the world for the Inside Your Body exhibition. 
Sage was also resident in Videotage's Leave Your Body residency in Minecraft. In which he crafted a rollercoaster through the Minecraft version of Videotage's venue at the Cattle Depot in Hong Kong. 
During their residency, Jaene F. Castrillon created a new film in response to the Hong Kong protests. Drawing upon their own associations to protest, the activist movement in Hong Kong and family connections. Reflecting on Tiananmen Square to recent protests, such as the Umbrella Movement and anti-extradition law disputes, Castrillon has, in protest, created a hopeful film. Using imagery of prayer and ceremony alongside powerful replications of protest signs from Hong Kong, Castrillon offers "a celebration of hope and new beginnings" in her film, Morning Song. 
Inside Your Body is a celebration of the latest Vital Capacities residency artists and their work. The exhibition can be seen on Vital Capacities site from 7 December 2020.
Clifford Sage and Angela Su's residencies are part of our long-term collaboration with Videotage in Hong Kong, Both Sides Now VI. The sixth Both Sides Now explores the theme of Viral Futures; how viruses and viral phenomena have existed in the past, present and will into the future. 
Both Sides Now is a tactical programme partnership between Videotage (HK) and videoclub (UK). Which uses contemporary and historical film and video work to explore developments within the culture and society of Hong Kong, China, and the UK, and beyond. 
Thanks to: 
Jaene F. Castrillon, Damien Robinson, Clifford Sage and Angela Su
Videotage
The Old Waterworks
Tangled Art & Disability
Arts Council England and Hong Kong Arts Development Council