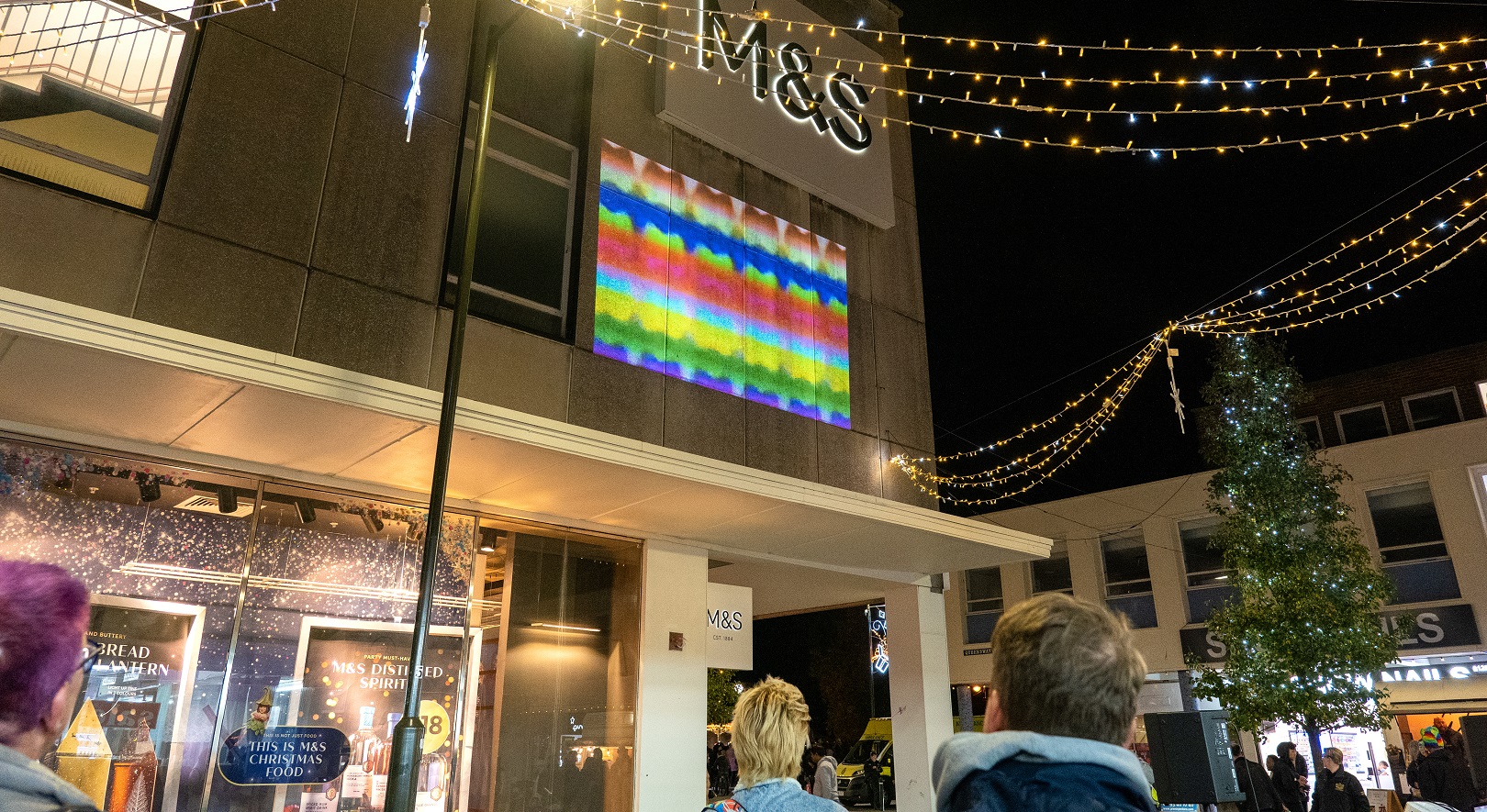 Watch short films projected onto the streets of Crawley as part of videoclub's Night Watch film trail.
Night Watch is an outdoor film trail taking place in January and February 2023, with film & video works projected onto buildings around the town of Crawley, UK. Films will be curated from submissions by LGBTQIA+ artists and filmmakers from the UK and internationally. The next film trail will take place on 26th January, and another film trail on 23rd February.
Follow the film trail as the mobile cinema moves around central Crawley, with opportunities to stop and watch, and then follow the trail to the next location. Viewers can follow the trail or just watch one film. videoclub will be walking films through the streets using a portable cinema.
The short films will be a combination of film & video, experimental film, short film, animation, and digital works. With live music played between locations.
There will be two trails (with the same films) taking place on the 26th Jan, one at 4:45pm and one at 6:15pm. Choose which time works best for you, and book using the link below:
Secure your place for the film trail on Thursday, January 26th by clicking HERE.
Meet in Queen's Square outside Metro Bank at either 4:45pm or 6:15pm to start the tour. Look out for the yellow hi-vis vests.
Access: the trail will cover approximately 1km, all wheelchair accessible. The pace is fairly leisurely. Films will be subtitled.
The event is free to attend and you can just turn up. Spaces are limited though, so to guarantee your place please reserve your FREE ticket.
Night Watch is curated and produced by international artists' film & video agency, videoclub, with support from Crawley LGBTQU+. Delivered in partnership with Creative Crawley as part of their Enliven programme funded by Crawley Town Centre Business Improvement District. Supported by Arts Council England.