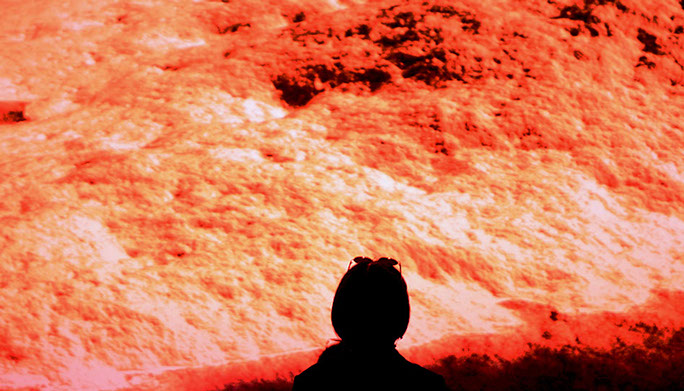 Chinese artist-in-residence at Phoenix Brighton shows previous and current work, 2 November
Shi Zheng is in residence at Phoenix Brighton between October and November, as part of the international exchange programme, Both Sides Now, curated by videoclub and Videotage (Hong Kong).
At Phoenix's latest SPOTLIGHT event, Shi Zheng will show some of his beautifully-rendered, computer-generated landscapes that run alongside his addictive, rhythmic soundscapes; he will also give us a glimpse of new work he has been creating during his residency at Phoenix.
In recent years he has shown work at international festivals including Sound Art China 2014 (Hong Kong), Sound Art China 2013 (Shanghai), FILE Electronic Language International Festival (Brazil), Today Art Museum (Beijing) and Ars Electronica 2012 and 2015 (Austria).
Get a drink and join us to experience Shi Zheng's work.
Event details
Date and time: 2 November, 6:30pm
Venue details: Phoenix Brighton, 10-14 Waterloo Pl, Brighton, East Sussex BN2 9NB
Cost: Free event but please book: http://www.eventbrite.co.uk/e/spotlight-artist-residencies-tickets-19188498315
Both Sides Now residency programme
Both Sides Now supports four artists in residence in 2015, enabling the programme to benefit practitioners, and to further support cultural exchange between China and the UK.
Two artists from each country will exchange, working at cultural institutions, where they will have access to local resources and contacts. The aim of the residency programme is to provide artists with the opportunity to explore new practices, develop new work and experience new cultures and share experiences.
The four artists in the programme are: Lucy Clout, Wong Ping, Daniel Shanken and Shi Zheng. The programme is supported by Centre for Chinese Contemporary Art (UK), Cinecity + Phoenix Brighton (UK), V Art Center (in association with Chronus Art Center), and Wuhan K11 Art Village.
Supported by the associated organisations, Arts Council England and Hong Kong Arts Development Council.