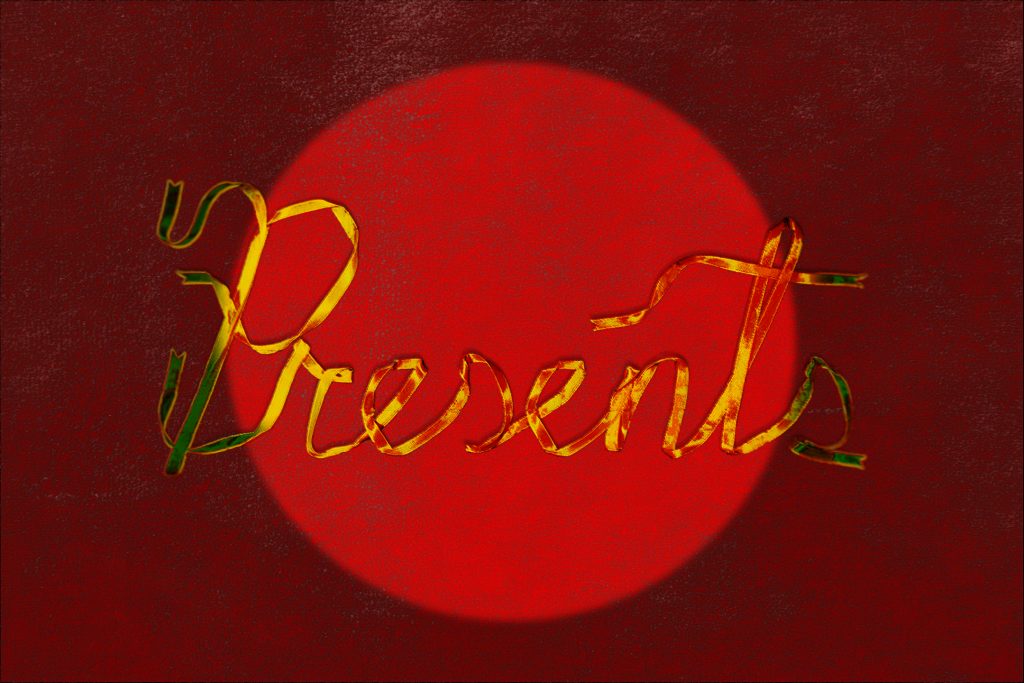 PRESENTS is a selection of video works that don't require an abled or physically present body in order to be performative. Thirteen sick, disabled, d/Deaf, and care-giving artists come together to expand the idea of 'performance', presenting work that is embodied and immediate without forcing bodies to conform to ableist norms of art-making.
In addition to their video, each artist has created a score for you to perform alongside the work. The scores are instructions, prompts, invitations, or challenges from the artist to the audience. They create a sense of connection to an artist who isn't physically there, but who speaks to us while we watch their video, and asks us to embody the performance of their artwork.
This second iteration of PRESENTS offers many tiny gifts from the artists, reaching out to us from far away, teleporting into our computer screens, homes, or theatres; at times sharp, soft-edged, slow, stratospheric, whipsmart, oblique, raging.

Available to watch online here

ACCESSIBILITY: All of the works, when necessary, are subtitled and audio described in English and German, as well as having versions in German and American sign language. All scores come in written and audio format in English and German. Some of the works play with performative and artistic aspects of these versions, not just making translations of information, but adding new artistic layers and interpretations to the works themselves. The website itself should be screen-reader friendly and keyboard navigable, please contact us if there are any issues at presents2023@gmail.com.
CONTENT WARNINGS: Upright Nationalism by Chloe Pascal Crawford contains repeated scenes of ableism, where wheelchair users are made to stand up by military exoskeleton technology. In the Belly of the Beast by Misra Walker thematises racist colonialism in the USA. Blue Light Hike by Laura Lulika + Hang Linton has a gory image of a fake chopped-off finger, and depicts anti-Black police racism.
---
The Videos

Featuring work from: April Lin 林森, Brothers Sick, Chloe Pascal Crawford, Hang Linton + Laura Lulika, Katrin Bittl + Saioa Alvarez Ruiz, Khairani Barokka, Misra Walker, RA Walden, Seo Hye Lee, Venesse Guy, and Zinzi Buchanan.
Some videos ask us to consider our performances online on social platforms, such as Traveling Solo ASL Story via Zodiac Signs which plays with online influencer Instagram culture, or OHYUNG: now i close my eyes the world i see is so beautiful which creates a virtual world where avatars of the living and dead reunite and are projected back onto the body.
Others invite us to the most morbid dance party of our lives, such as apocalypse core which asks us to scream-sing our favourite song as the world burns, or the music video where Hang Linton sings Blue Light Hike as they're chased through a wage-labour nightmarescape by a violent police system embodied in a rapping pig.

Artists also grapple to represent the unrepresentably cruel systems of ableism and colonialism we live under: Upright Nationalism's relentlessly parades military personnel being forced to stand up and serve their country, while In the Belly of the Beast creates an experimental horror film to depict the rot of colonisers like Christopher Columbus that lie at the heart of the American empire.

Artists perform with mythical beings who could be our downfalls, our or saving graces: we dance a perilous dance with the ancient baby God of love in Cupid's Shuffle; and sculpt Golems for our and our community's protection in Alchemy of the Ill.

Finally, our simple daily routines are elevated to performance: Dust Prayer shows the beauty of the rituals of ablutions, Cranes shows the power of solidarity of simply sharing a cigarette in silence, and Sound of Subtitles shows how the act of deep listening (not with our ears, but with our bodies) can be an act of creation.
PRESENTS 2023 is supported by Canada Council for the Arts. Delivered in collaboration with videoclub as part of Dreamy Place Festival online programme.