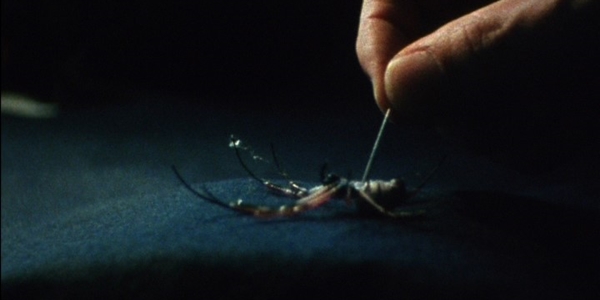 "It's never easy to keep abreast of artists working in film, but
here's a great way in for those looking to explore." – The
Guardian
Various screening dates across the US
(Full details further down)
15 April 14 : Northwest Film Center, Portland
17 April 14 : Seattle International Film Festival
25 April 14 : Artists' Television Access, San Francisco
29 April 14 : No Festival Required at Space 55, Phoenix
30 April 14 : Exploded View Gallery, Tucson
08 May 14 : Echo Park Film Center, LA
13 May 14 : Spectacle Theater, New York
15 May 14 : Hillyer Art Space, Washington DC
Selected 3 is a new collection of artists' film and video touring the US in
April and May 2014, following a successful tour of the programme in the UK.
Chosen by the artists shortlisted for the Film London Jarman Award 2012, Selected
brings together some of the best emerging film and video artists from the UK in a
diverse programme of new artists' moving image.
Shortlisted artists for the 2012 Film London Jarman Award – Brad Butler & Karen
Mirza; Aura Satz; Ben Rivers; Benedict Drew; James Richards; Shezad Dawood; Nathaniel
Mellors; Matt Stokes; Marcus Coates and Jon Thomson & Alison Craighead. – have
selected work by up-and-coming, fresh filmmaking talent, to develop an invigorating new
programme of work.
Artists in the Selected 3 programme include: Emma Alonze, Sophie Beresford, Nicholas
Brooks, Mat Fleming, Piotr Krzymowski, Naheed Raza, Frances Scott, Daniel Shanken,
Cheryl Simmons and Edward Thomasson.
Selected has been produced in partnership by videoclub and Film London Artists'
Moving Image Network (FLAMIN), with the aim of showcasing and celebrating some of the
most innovative emerging talent in artists' moving image.
Film London Artists' Moving Image Network
Film London Artists' Moving Image Network (FLAMIN) supports London-based artists
working in moving image, working in partnership to deliver a comprehensive programme
including production award schemes, regular screenings, talks and events, as well as
the prestigious annual Film London Jarman Award. The Jarman Award honours the legacy of
avant-garde film-maker Derek Jarman. It recognises and rewards the exceptional
creativity of today's UK artist film-makers whose work, like Jarman's,
resists conventional definition.
FLAMIN website: "http://www.filmlondon.org.uk/flamin">www.filmlondon.org.uk/flamin
Venue and screening details:
Northwest Film Center
Date and time: Tuesday, 15 April 2014, 7pm
Price: $9 General admission; $8 for Portland Art Museum members, students, and seniors;
$6 Friend members
Address: Northwest Film Center, 934 SW Salmon St, Portland, OR 97205, USA
Web: www.nwfilm.org
Seattle International Film Festival, Film Center
Date and time: Thursday, 17 April 2014, 7pm
Price: $11 full / $6 SIFF member
Address: SIFF Film Center, Seattle Center
Web: www.siff.net
Artists' Television Access
Date and time: Friday, 25 April 2014, 8pm
Price: $7 / $10
Address: ATA, 992 Valencia St, San Francisco, CA 94110
Web: www.atasite.org
No Festival Required @ Space 55
Date and time: Tuesday, 29 April 2014
Price: $6 cash on door
Address: Space 55, 636 E Pierce St, Phoenix, AZ 85004
Web: "http://nofestivalrequired.wordpress.com/upcoming-screenings/">http://nofestivalrequired.wordpress.com
Exploded View Gallery
Date and time: Wednesday, 30 April 2014, 7.30pm
Price: TBC
Address: Exploded View Gallery, 197 E Toole, Tucson, AZ
Web / box office: "http://explodedviewgallery.org/">http://explodedviewgallery.org
Echo Park Film Center
Date and time: Thursday, 08 May 2014, 8pm
Price: TBC
Address: Echo Park Film Center, 1200 N Alvarado St. (@ Sunset Blvd.) Los Angeles, CA.
90026
Web: "http://echoparkfilmcenter.org/">http://echoparkfilmcenter.org
Spectacle Theater
Date and time: Tuesday, 13 May 2014, 8pm
Price: TBC
Address: Spectacle Theater, 124 South 3rd St, Brooklyn, NY, 11211
Web: "http://www.spectacletheater.com/">www.spectacletheater.com / 0141 352 4900
Hillyer Art Space
Date and time: Thursday, 15 May 2014, 7pm
Price: TBC
Address: Hillyer Art Space, 9 Hillyer Ct NW, Washington, DC 20008
Web: "http://hillyerartspace.org/">http://hillyerartspace.org / 0141 352 4900
---
Supported by Arts Council England and Film London