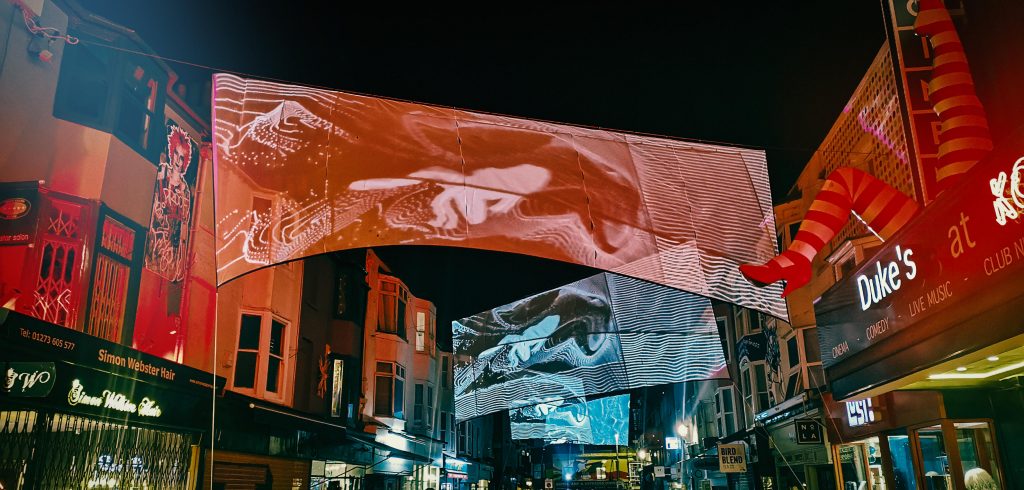 videoclub is calling for sponsors for Brighton Digital Festival – now titled Dreamy Place Festival – to support the delivery of the programme in October 2023. Film and digital culture agency, videoclub have recently taken on management of the festival and are seeking sponsors in addition to funds from British Council and other funders.
Dreamy Place Festival is a programme of outdoor projections, videogaming, exhibitions, digital dance performances and events in Brighton & Hove (19-22 October) and Crawley (12-14 October).
Our aim is to include the following elements within the programme:
– Young people digital skills development programme – providing disadvantaged young people with opportunities to develop creative digital skills working with artists, industry, and developers. Outdoor screenings will give young people the chance to show work as part of the festival.
– Health & Wellbeing programme – demos, talks & events showcasing how creative technology and games can promote and nurture health & wellbeing.
– Public programme – dance performances, exhibitions, outdoor projections and videogaming, 24-hour talks event, Gaming & Wellbeing programme and much more in Brighton & Hove and Crawley.
Sponsorship opportunities include exposure through festival PR, social media (including 20 festival partners), and print and digital promotion. Plus the opportunity to support the arts and digital culture of Brighton & Hove and Crawley, and support young people to develop creative digital skills.
If you would like to find out about sponsoring the festival, email videoclub's director, Jamie Wyld: jamie@videoclub.org.uk