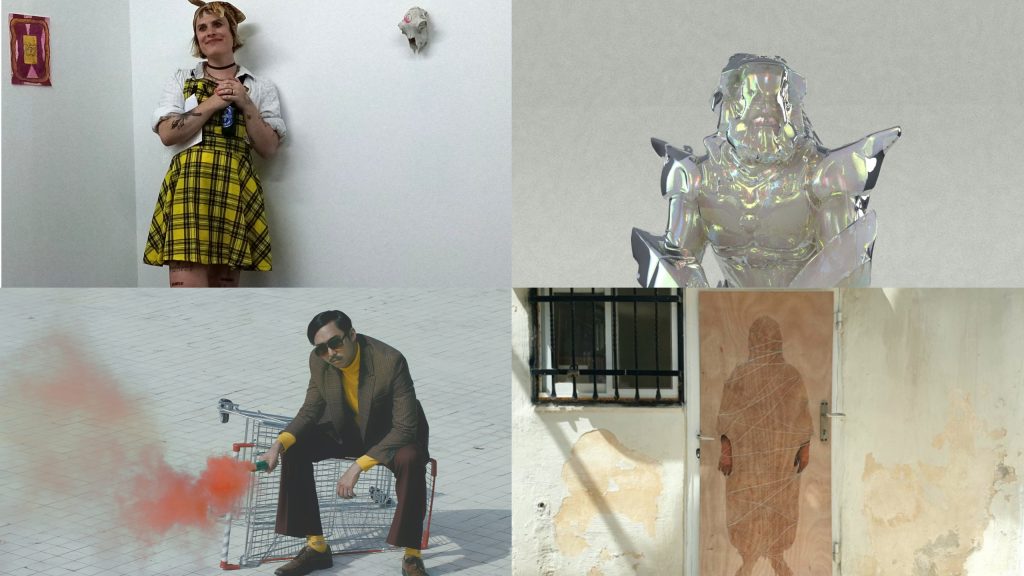 For the eighth Vital Capacities' residency, we partner with Film London Artists' Moving Image Network (FLAMIN), Shubbak Festival, Videotage (Hong Kong) and Wysing Art Centre (Cambridge) to work with artists from Scotland, Northern Ireland, Palestine and Hong Kong. From 1 May, artists Bassam Issa, Sammy Paloma, Shaima Ali and Su Hui-Yu & XTRUX will join Vital Capacities, to undertake research and develop new work. Working with our partners, they will explore and exchange new ideas using their studio spaces, and create new work throughout the residency.
The artists for May 2023's residency are:
Bassam Issa works across digital animation, painting, sculpture, and textiles creating visions of resistance, transformation, and queer possibility. He completed a BA in Visual Art Practice from Dún Laoghaire Institute of Art, Design and Technology in 2016. Recent solo exhibitions include: IT'S DANGEROUS TO GO ALONE, TAKE THIS! The Douglas Hyde Gallery(2022) I AM ERROR, Gasworks, London (2021), and De La Warr Pavilion, Sussex (2022).
Sammy Paloma is an artist, poet and witch living in Shetland, on a croft by a beach, next to a bog, with 11 chickens. She paints, prints, tattoos, writes poetry, and makes computer games (with Uma Breakdown). Her work is into how divination disturbs linear time, grief rituals and necromancy. Her current obsession is the overlapping folklore and paranormal phenomena surrounding both boglands and crossroads.
Shaima Ali is an artist from the destroyed village of Beit Thul in Palestine. She uses sculptural elements and video art to explore the liminal space between the personal and the collective, where it is a point of intersection and where it is a point of departure. She draws her inspiration from that which demands an interruption to the every day. Her art is political in that it refuses to take on a singular perspective, preferring to reflect the mixture and entwinement of politics in the day-to-day of the Palestinian individual through their life, hopes and dreams.
Su Hui-Yu & XTRUX – Su Hui-Yu is a Taipei based artist who has been working on his specific "Re-shooting" series which focuses on Taiwan's colonial histories, martial law memory and body-politics for many years. XTRUX is a Taiwanese collective art founded in October 2020 with a number of creators whose works focus on new media art. Su and XTRUX have been cooperating on experimental projects since 2022.
Residencies will launch on 1 May 23 – find out what artists are up to by joining our mailing list and following them on: vitalcapacities.com
May's residency programme is delivered in partnership with Film London Artists' Moving Image Network (FLAMIN), Shubbak Festival, Videotage (Hong Kong) and Wysing Art Centre, with support from Arts Council England.
Vital Capacities is an accessible, purpose-built digital residency space, that supports artists' practice while engaging audiences with their work.
Vital Capacities has been created by videoclub in consultation with artists, digital inclusion specialist Sarah Pickthall and website designer Oli Pyle.