videoclub and Index on Censorship present
BEYOND SURVEILLANCE
curated by Manu Luksch
28 April 10 – doors and bar 6pm, screening at 7pm
A screening of art works developed in response to and in counteraction against surveillance technologies, with a panel of speakers discussing the consequences of and alternatives to surveillance in our daily life.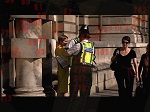 What are the consequences of surveillance on our daily lives? Is surveillance provoking a climate of self-censorship? Is a society without a paternalising infrastructure of control, such as surveillance and censorship, possible?
As surveillance technologies become more ubiquitous – from CCTV to data-mining on websites to mobile phones to Google streetcar – does it not become ever more important to consider the implications and to develop creative, radical responses, counteracting and reversing acts of surveillance?
Artist and curator Manu Luksch has selected several works which explore differing aspects of re-activism to surveillance technologies; selected artists include: David Valentine, Caspar Below, The Bureau of Inverse Technology and Michelle Teran.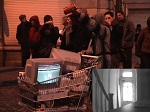 Panel of speakers:
Caspar Below – artist
Julia Farrington – Head of Arts at Index on Censorship
Manu Luksch – ambientTV.NET / artist
David Valentine – artist
Manu Luksch is highly celebrated for her work investigating the use of surveillance technologies in artistic practice: Ambient TV In particular her work 'Faceless' has been internationally recognised and celebrated for its approach in exploring CCTV / surveillance technology in society.
Lighthouse, 28 Kensington St, Brighton BN1 4AJ // 01273 647197
Directions to Lighthouse: Map to Lighthouse
Funded by Arts Council England and Brighton and Hove City Council. Supported by Lighthouse.
---
VIDEOCLUB presents BRIGHT ON! for WHITE NIGHT 2010
Saturday, 30 October 10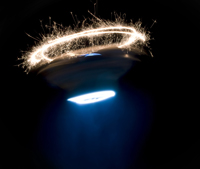 First game at 6pm and then every 15 minutes after, last game at 10pm
Free to take part
Stop the dark matter when it matters! For goodness sake, commit yourself to the sake of goodness! Don't take the night off: enter BRIGHT ON!
BRIGHT ON! is a fun outdoor game event. Participants will perform good will tasks in order to repel Astro Tsunami, a negative energy wave from space that threatens to destroy Earth.
Join us in a lively street game: play with friends or make new friends while playing and get a new, playful view of Brighton's streets and spaces.
You will need to sign up for a game in Jubilee Square (see map below) – sign up early for a time to avoid missing out. Please arrive ten minutes before the start of your game to collect electronic playing cards from the White Night booth in Jubilee Square, games start every 15 minutes. The first game is at 6pm. Following games start at: 6:15pm, 6:30pm, 6:45pm etc…
The last game is at 10pm. You can sign up for a game at any time, you just need to get back to Jubilee Square ten minutes before your game starts to get your game instructions.
BRIGHT ON! has been co-commissioned by videoclub and White Night especially for playing on the streets of Brighton. It has been created by Serbian writers and designers Bogdan Spanjevic and Mirko Stojkovic of the ApsArt Centre in Belgrade, Serbia. This is the artists' third game, previous games have been made for Belgrade Fortress in Serbia and the Southbank Centre in London.
White Night Brighton and Hove 2010 website
Funded by White Night Brighton & Hove and Arts Council England. Created by Bogdan Spanjevic and Mirko Stojkovic.