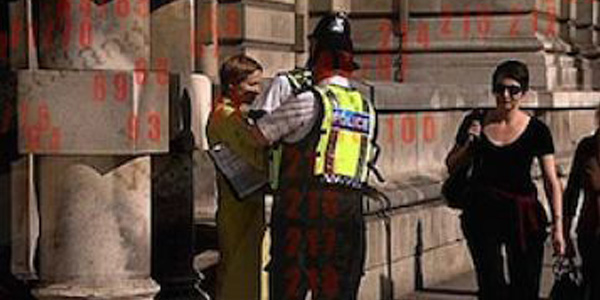 Various screening dates
(full details at the bottom)
Electric Palace cinema, Hastings:Wednesday, 09 February 2011, 7.15pm doors open, 8pm screening – £4
Aspex Gallery, Portsmouth:Thursday, 10 March 2011, 6pm – FREE
South Hill Park arts centre, Bracknell:Saturday, 19 March 2011, 4.30pm – FREE
Beyond Surveillance is a collection of art works developed in response to and in counteraction against surveillance technologies, with a panel of speakers discussing the consequences of and alternatives to surveillance in our daily life.
What are the consequences of surveillance on our daily lives? Is surveillance provoking a climate of self-censorship? Is a society without a paternalising infrastructure of control, such as surveillance and censorship, possible?
As surveillance technologies become more ubiquitous – from CCTV to data-mining on websites to mobile phones to Google streetcar – does it not become ever more important to consider the implications and to develop creative, radical responses, counteracting and reversing acts of surveillance?
Artist and curator Manu Luksch has selected several works which explore differing aspects of re-activism to surveillance technologies; selected artists include: David Valentine, Caspar Below, The Bureau of Inverse Technology and Michelle Teran.
Manu Luksch is highly celebrated for her work investigating the use of surveillance technologies in artistic practice: Ambient TV In particular her work 'Faceless' has been internationally recognised and celebrated for its approach in exploring CCTV / surveillance technology in society.
Venue and screening details:
Aspex Gallery
Date: Thursday, 10 March 2011
Time: 6pm
Cost: FREE
Address: Vulcan Building, Gunwharf Quays, Portsmouth PO1 3BF
Web / contact: www.aspex.org.uk / 02392 778080
Electric Palace Cinema
Date: Wednesday, 09 February 2011
Time: 7:15pm doors, 8pm screening
Cost: £5 / £4 concessions
Address: 39A High Street, Old Town, Hastings TN34 3ER
Box office / web: www.electricpalacecinema.com / 01424 720393
South Hill Park Arts Centre
Date: Saturday, 19 March 2011
Time: 4:30pm
Cost: FREE
Address: Ringmead, Bracknell, Berkshire RG12 7PA
Web / contact: www.southhillpark.org.uk / www.digitalmediacentre.org / 01344 484123
Funded by Arts Council England.